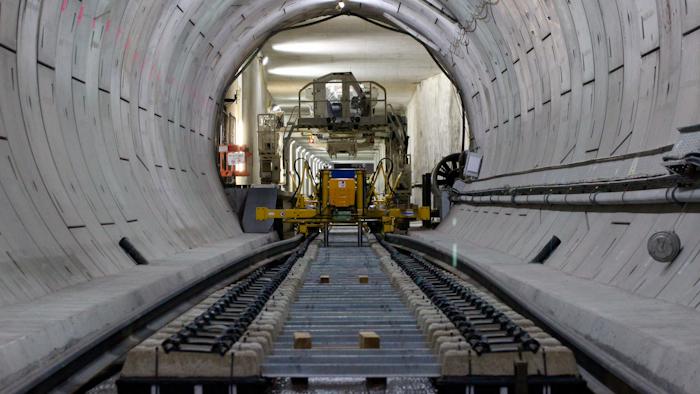 Over the past three years, 26 miles of tunnels have been dug for the Crossrail — Europe's largest infrastructure project. All that's left is to fit the tunnels and stations with infrastructure such as tunnel ventilation, high-voltage power, communications, overhead line equipment and five kinds of track.
Standard track will account for 80 percent of the Crossrail project, but some delicate areas that require reduced noise and vibration will use light and heavy floating tracks. The floating tracks rely on rubber bearings and heavy-duty springs to absorb the vibration. High-attenuation sleepers and direct-fixed track, to accommodate low ceiling clearance, are also being used.
Four custom-built gantries carry and place the track. With the track in place and checked, a concrete train comes through and cements the track permanently.
The first Crossrail trains will start running in May 2017. By the end of 2019, the line should be operating at full capacity, bringing transporting 1.5 million additional people every day.