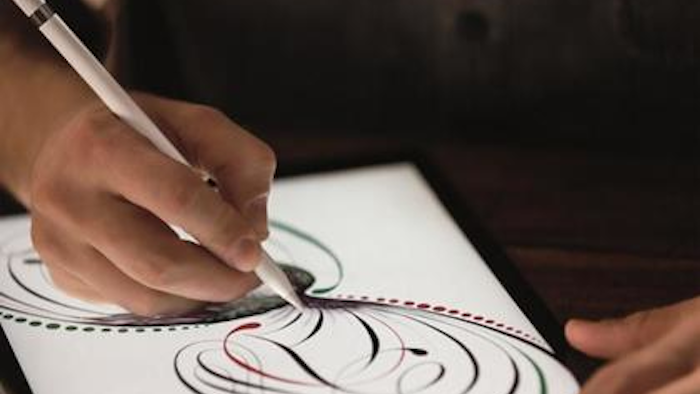 Among Apple's many announcements at its presentation on Sept. 10 was the new, larger 12.9" iPad Pro and its stylus. The stylus for the iPad Pro is a new tool called the Pencil, which includes pressure sensitivity and tilt sensors in order to enable more refined drawing.
This could be an important asset in drawing blueprints and sketches, as well as in 3D design work. Mail, Notes, Procreate and Office 365 will be compatible with the Pencil.
The Pencil doesn't come with the iPad Pro automatically, but rather needs to be bought separately for $99.
The connectable Smart Keyboard is also optional, coming in at $169.  It provides QWERTY keys, as well as a stand that props the tablet up – essentially giving the iPad Pro the profile of a Microsoft Surface or a third party stand.
"The iPad Pro is far and away the fastest iOS device we have ever made — its A9X chip beats most portable PCs in both CPU and graphics tasks, but is thin and light enough to hold all day," said Philip Schiller, Apple's senior vice president of Worldwide Marketing.
The iPad Pro will go on sale in November.
As well as introducing the new iPad Pro, Apple announced the iPhone 6S and 6S Plus, as well as iOS9 and its improved Siri features, watch OS2, a new Apple TV, and the Hermes Collection, a stainless steel line of Apple Watches selling for about $1,000.
The new TV will have touch controls just like the other devices in the new line: a movement-sensitive Siri Remove allows the user to scroll and point, while the screen itself is a glass touch surface. Apple TV runs on its own tvOS, and uses the proprietary A8 chip to leverage its improved performance. It will be available at the end of October in 32GB or 64GB models.
iOS 9 will be available as a free upgrade on Sept. 16.