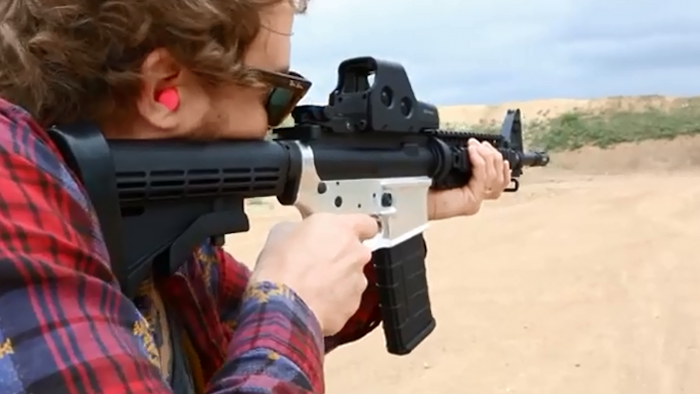 Gun activist Cody Wilson's lawsuit against the United States State Department is on its way to the 5thCircuit Court of Appeals, Wilson announced on Aug. 25.
His case, which was previously denied by District Judge Robert Pitman, alleges that Wilson's Constitutional rights were infringed when the State Department ordered him to stop distributing the plans for his 3D-printed Liberator pistol online.
Wilson introduced the plans for the working pistol to the Internet two years ago, at which time the United States government cited two regulations designed to prevent unapproved firearms from being exported internationally and ordered that he remove the files.
He did so, but also filed a lawsuit claiming that the order violated his First Amendment rights. Additionally, he requested an injunction against the order, citing the fact that he potentially lost two years of revenue for his company, Defense Distributed.
Judge Pitman found the injunction to be unsupported, in part because of an imbalance between "a public interest in protection of constitutional rights" and the public's desire to cut down on the export of weapons and other defense tools.
Pitman will also be presiding over Wilson's lawsuit. The 5th Circuit Court of Appeals, which serves parts of Louisiana, Mississippi, and Texas, could still overturn Pitman's judgment in that case and grant Wilson the injunction, allowing him to distribute the files online.
Distributed's lawyers pressed the First and Second Amendment cases, asserting that its reasoning that CAD files for a working gun constituted a firearm was overly broad and opened up questionable legal ground.
"And, even if Plaintiffs were somehow able to always limit access to domestic IP addresses, there is no way to stop a foreign person from looking at (or using) a U.S. person's internet connection. Every embassy in Washington is steps away from free, domestic IP WiFi. And the State Department has never before, including in its latest proposed notice for rulemaking, offered IP filtering as an acceptable method to publish files to the Internet (much less a safe harbor). In sum, Defendants have effectively declared the Internet a forbidden ground for collaboration if a CAD file might fall within their overbroad definition of "technical data."
They also argued that "plans and instructions for building much more easily concealable (though equally capable of firing projectiles) devices such as pen guns or "zip" guns are widely available in books and on Internet forums."
On Twitter on Aug. 25, Wilson said that he felt "State has singled me out for political reasons."
Along with creating technology such as the Liberator pistol and the Ghost Gunner CNC mill, Defense Distributed identifies itself as "anti-monopolist" and dedicated to "defend[ing] the human and civil right to keep and bear arms."