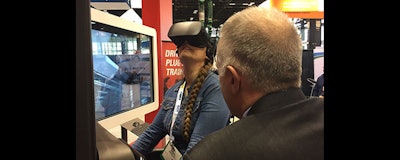 This year's ProMat show in Chicago was all about finding solutions to problems in the industrial and manufacturing world.
The annual show was packed with 900 exhibitors showcasing the latest products and innovations to help manufacturing and supply chain professionals take their company to the next level of success. While attending the show this April, I had the opportunity to see some of the innovative ways companies are looking to solve the problem of forklift safety.
One of the most exciting is the incorporation of virtual reality (VR) training. Raymond Corporation and Yale Materials Handling Corporation were two companies that debuted VR technology at ProMat as a way to train new operators.
One sobering statistic from the Occupational Safety and Health Administration (OSHA) is that nearly 100,000 workers are injured by forklifts each year as a result of improper training or carelessness on the job. Of those accidents, 34,900 result in serious injury and 85 are fatal. Any accident resulting in injury is one too many, which is why training is so important. In fact, OSHA reports that 70 percent of all forklift accidents could be avoided with proper training and policy.
Some of the benefits of using VR training, instead of letting inexperienced workers take the equipment for a spin, might seem obvious. First: safety. In virtual reality, all the pallets, cones, walls or even people the operator bumps into while learning to maneuver the machines are virtual. No
one can be injured.
"It's like when a pilot crashes the plane in a simulator — it doesn't cost anything, but we want that pilot to spend a lot of time in the simulator, gain a lot of experience," says David McNeill, manager of product strategy — warehouse products at Yale.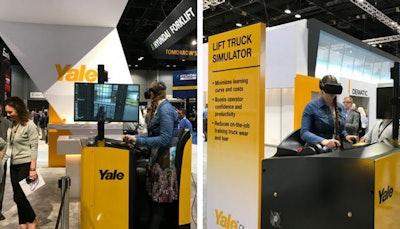 Second: experience. Virtual reality can offer up various scenarios that operators may encounter in the real world, but in a safe environment. This
allows the operator to build experience and confidence before driving the forklift on the facility floor.
"I have had someone who's never driven a forklift use VR, and within 35 minutes, learn how and feel comfortable doing it," says David Norton, vice president of corporate quality and customer care at Raymond.
Another benefit with VR is that the trainer can stand right next to the trainee and provide suggestions and instructions — instead of shouting across the facility or waiting for the operator to return.
Third: cost savings. Compared to starting a new operator on fully operational equipment, VR helps reduce the risk of damage to lift trucks, other equipment, workers and facility infrastructure as a result of error.
"When an operator runs into something on this thing, it doesn't cost you anything," McNeill says.
As someone who tried out the budding technology on the show floor, I can attest to how convincing the VR experience can be, even though the graphics aren't 100 percent realistic. Whether it's a digital worker walking out in front of the reach truck, or looking down from an orderpicker 300 feet in the air, it is easy to see how virtual reality training can make for safer drivers.