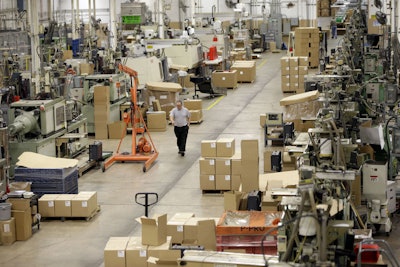 Key decision makers in the manufacturing and distribution industries know that the shift to Industry 4.0 demands the implementation of digital transformation initiatives. IDC forecasts $1.2 trillion in worldwide spending on digital transformation technologies in 2017, with process manufacturing industries contributing almost 30 percent of this spend.
Pillars of Digital Transformation
Digital transformation requires a substantial change to the operations of key business processes.
The shift to Industry 4.0 can be observed in the adaptation of solutions such as Artificial Intelligence (AI) and wearable technology. Many businesses are adopting these large-scale improvements in order to remain competitive in a fast-evolving market. In the supply chain, RPA (robotic process automation) and machine learning have enabled automation of complex processes with minimal human intervention. Due to its scalability and productivity, RPA optimizes efficiency and workflow by allowing staff to focus on profit-generating tasks. However, the implementation of such innovative solutions requires enormous preparatory upgrades of legacy platforms for businesses to operate in the advanced digital ecosystem.
There has also been a dramatic increase in the application of wearable technologies over the past few years. For example, smart glasses increase inventory management efficiency in the warehouse. By reducing travel time to the item location and providing real-time item recognition, they ensure that the correct products are being retrieved. While wearable technology may provide benefits for communication, productivity, and even safety, many businesses are rushing to implement this complex platform without realizing the complex process involved in collecting, sorting and analyzing all the data flowing in from wearable technology.
Both artificial intelligence and wearable technology are considered pillars of Industry 4.0, but both require substantial investment and platform upgrades to realize transformation goals. According to a newly published article in Information Age, legacy platforms are seen as the barrier for seamless transition towards digital transformation in the supply chain.
For decision-makers who find this a challenging process, there are other more accessible and cost-efficient digital transformations that also deliver similar positive results. Without the large capital outlays of some of the more sophisticated large scale upgrades, these simple but well-planned solutions can improve customer experience, productivity and ultimately ROI.
Documents to Automate
Document processing can dramatically affect profitability as it plays a major role in productivity and customer service relationships. It requires substantial manual data entry that can be cumbersome, error-prone and time-consuming, resulting in declining staff efficiency and low ROI beyond initial sales.
Many executives tend to overlook the number of different documents that can be easily integrated in to the automation process. Document automation is one of the simpler and more economical digitization processes that can bring about benefits for companies who are not ready to invest in more complex and costly Industry 4.0 initiatives.
Sales Orders
Eliminating bottlenecks traditionally associated with processing POs can be eliminated by processing faxed and emailed purchase orders automatically, so that data is converted into your ERP system with no manual labor involved. Automating sales orders not only leads to faster order cycles, but also reduces the chance for error and improves overall efficiency.
AP Invoices
With invoice automation, invoice details are transferred into your ERP or financial systems without any manual effort. Automatically converting faxed and emailed AP invoices reduce costs and prevents duplicate payments. This also frees time for staff to answer more complex invoice related vendor requests.
Quotes
Quote automation eliminates the need for staff to manually key-in requests for quotes while dramatically reducing response time. This automation process allows staff to focus on value-driven tasks, and its accuracy and speed allows companies to respond to requests for bids and quotes within minutes, around the clock, which means winning more business. Quote automation that handles different unique formats can transform customers' requests for quotes into standardized, electronic quotes for direct input into ERP or Quote Application Systems.
Special Pricing Agreements
When it comes to special or custom pricing in contracts, keying in each pricing agreement increases manual labor and room for error. With the growing usage of SPAs, fast and efficient processing of these agreements are essential to sustainable success. Automating this process streamlines workflow and reduces costly mistakes involved in line item rejections and discrepancy claims.
Supply chain executives and key decision makers are eager to jump on large-scale digital transformations to advance and remain competitive in the manufacturing and distribution sectors. However, resource consuming projects do not have to be the first call of action for business leaders looking for a smooth transition to Industry 4.0.
Simple-to-implement initiatives like document automation also work to improve ROI and overall profitability without requiring extensive effort.
Earl van As is Vice President of Marketing & Product Management of ecmarket, cloud solutions developer of the patent-pending Conexiom sales order and invoice automation solution. Conexiom allows manufacturers and distributors to focus on serving customers and managing supplier relationships instead of entering data. For more information, visit conexiom.com.