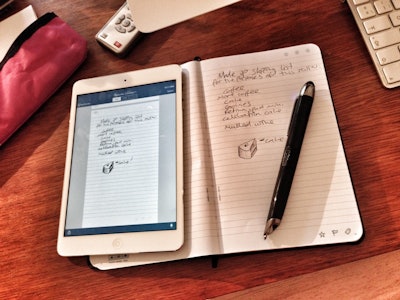 Earlier this week, Moleskine notebooks announced a partnership with the Livescribe smartpen to create a notebook that features the classic aesthetic of a Moleskine notebook alongside the technology of a smartpen.
Livescribe paper technology hides within the iconic heavy, ivory sheets of Moleskine notebooks, giving smartpen users a writing experience that makes them feel at once like both Walt Whitman and Steve Jobs. 
Each page of the notebook is covered in tiny dots that sense the pen's movement and record the information digitally. Each page also features three icons in the bottom outside corner that perform the start, pause, and stop functions which control what audio is recorded to accompany the notes.
With the new $30 limited edition notebook, you can now cut, paste, tweet, or text your handwritten notes. All of the information you jot down is stored digitally, and the notebooks are compatible with smartpens that operate with either Evernote or iOS technology.
This announcement comes as a surprise to those of us who think of Moleskine notebooks as timeless, leather-bound canvases for our best cursive and most sophisticated musings. However, it seems that Moleskine has broken off its engagement with fountain pens and has taken up with the Livescribe smartpen.
To me, this unlikely collaboration serves as a representation of the technological age. Companies are constantly trying to walk the line between nostalgia and innovation. This collaboration is sure to confuse my kindred spirits who still write pen and paper letters to their grandmothers, do research in the books at the back of the library, and reject Kindles as poor substitutes for heavy, musty paper books.
But will anyone pay $30 for a Moleskine Livescribe notebook when Livescribe already makes a $15 version? I think yes. Students, artists, and writers already paid more for Moleskine than for the off-brand counterparts, for the same simple reason that everyone owns an iPhone—the "cool factor."
The new Moleskine notebook doesn't provide any new technological perks that the Livescribe notebook doesn't already offer. It does, however, prove a powerful point by seamlessly combining worlds while laughing in the face of those who argue against technology's place in the classical realm of writing. 
Is this seemingly oxymoronic combination of nostalgia and innovation the key to success for other new technology in the manufacturing world?
Take 3D printing, for example. 3D printing is one of the newest and most exciting emerging technologies in manufacturing. It is a manufacturer's dream—many 3D printers are constructed from 3D printed parts, making it a technology that can literally manufacture itself.
In the last year, many companies have been working to develop 3D printers that are affordable for wide consumer use, yet the technology has barely made it beyond industry use and into the personal, "just for fun" sphere.
But why? At prices that equal many people's weekly grocery bills and with a basically unlimited possibility for manufacturing other personal use objects, why aren't more people buying 3D printers for their homes? The answer may lie in the lack of brand recognition and, therefore, the lack of "cool factor."
Until a more recognizable, credible, and "cool" brand slaps its logo onto the technology, 3D printing may not be able to harness the interest—or the money—of the consumer population. The emerging manufacturing technology, while jaw-droppingly amazing, might need to take a cue from Livescribe and Moleskine and link itself with an iconic partner in order to reach wider audiences.
Although I will be sticking with my ballpoint and legal pad, I can't help but marvel.