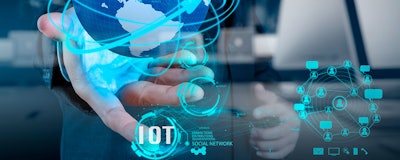 Every day technologies are blending in new and exciting ways that profoundly change our personal and professional lives. Case in points: Recently, my car sent me an email alerting me that its tire pressure was low. Earlier this year I met the leader of an 11-person manufacturing company, who replaced a traditional supplier with a collaborative robot on her shop floor.
However, few such convergences are as promising for today's manufacturers as a more accessible Industrial Internet of Things (IIoT), an increasing buyer preference to buy direct online, and the connected infrastructure to make it possible. We are at an inflection point—customers want more information about the manufactured products they buy, and manufacturers can collect and understand more information about their products than ever before. The crux of it all is elegantly transforming that vast amount of raw data—not just into better business decisions—but into true customer value.
This is a trend already taking shape as manufacturers are leading the way in the world of connected devices. According to December 2017 report by IDC , "The industries that are expected to spend the most on IoT solutions in 2018 are manufacturing ($189 billion), transportation ($85 billion), and utilities ($73 billion)." By supporting manufacturing operations with more complete information collected in real-time, organizations are producing higher quality products, at a more rapid and predictable pace, with a more cost-effective use of resources.
What's more, IIoT reveals a nearly untapped world of transparency into the supply chain. More and more connected devices switch on every day and share up-to-the-minute information about nodes in the supply chain. Examples include how long a ship has been at sea, conditions of machines on the factory floor, and exact compositions of metals. This type of data has the potential to unveil key information about a manufacturer's end product that can influence a purchasing decision or years of brand loyalty. It's the kind of authenticity that is not for the shy business leader, but it's precisely what a growing majority of buyers want and for which many are even willing to pay a premium to have.
A 2017 Forrester report, "A Brand New Day in B2B Commerce," as quoted by B2B E-Commerce World revealed a staggering opportunity for brand manufacturers. Consider the following:
89 percent of B2B buyers will visit a brand's site when they research online
54 percent of B2B buyers trust a manufacturer site for best information
20 percent are willing to pay slightly more to buy direct
Buyers are seeking authenticity and trust, and they perceive that the most reliable source for accurate product information is the group of people who make those products. This presents a tremendous opportunity. Whatever your online presence, buyers are visiting your website. It's up to you to capture them before they jump to Amazon or another competitor.
But eCommerce as an evolving technology comes with its own business challenges and rewards. B2C and B2B customers alike expect you to provide, a pleasant customer experience. They expect to find 100 percent accurate and complete product information on your website, compare products side-by-side, see inventory levels, access discounts and personalized pricing, configure products, and checkout in a secure environment, among other features.
But how do you enable IIoT and eCommerce in a meaningful way that creates new revenue opportunities and drives business growth? Advances in cloud applications have made it easier than ever for manufacturers to consume this type of innovation. Indeed, "Manufacturers upload more data to the cloud on average than any other industry, and are second only to high tech in how many cloud services they use," according to the 2016 Skyhigh Research, Cloud Adoption & Risk Report. No other software deployment model than the cloud offers the scalability or global presence to accommodate the incredible numbers of devices connecting into the IIoT every day. Cloud-based ERP solutions with integrated eCommerce solutions and fully responsive website have the power to connect customers with the most accurate account and product information available, however and whenever they wish.
Although technology is changing faster than ever, customer value continues to run at the core of every transformation story. Details like IIoT, eCommerce, and cloud-based infrastructure can be your unique plot twists that keep your customers coming back for more.
Kerrie Jordan is Senior Manager, Global Product Marketing at Epicor.