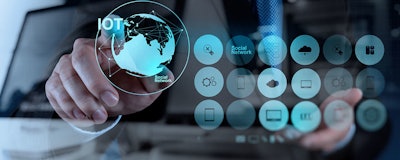 Often described as one of life's only constants, change permeates just about every industry — including manufacturing.
While plenty of new developments have helped shaped the industry in recent years, perhaps no innovation is poised to make a bigger impact on manufacturing than the Internet of Things (IoT). In fact, global IoT spending will experience a compound annual growth rate of 15.6 percent from 2015 to 2020, with manufacturing claiming the title of top IoT industry.
This surge is driven by two crucial factors — speed and convenience.
By introducing connectivity between devices, IoT helps manufacturers sidestep day-to-day bottlenecks that hamper time-to-market. Such connectivity also opens up access to real-time information from a wide range of devices, making it easier to anticipate maintenance, production and other needs sooner rather than later.
Much like other innovations, however, the IoT does have its challenges. With more information being shared between devices than ever before, it's becoming increasingly difficult to secure multiple access points in a traditional network. In fact, 94 percent of IT professionals expect the Industrial Internet of Things (IIoT) to increase risk and vulnerability.
Although the IoT may introduce a new set of threats, that doesn't mean manufacturers should bypass its benefits. Here are four factors to keep in mind while implementing IoT systems.
No. 1 - Enhancing device durability
If it's not broken don't fix it, right? Well, not exactly. The longer a device remains in operation, the greater security risk it poses. With new industry developments as well as protocols, it's crucial that connected devices keep up with the times. Tack on new features and services to ensure any newly unveiled security flaws are addressed. In addition to protecting sensitive information, periodic updates can go a long way toward meeting changing consumer expectations without exposing networks to oncoming threats.
Take some time to consider the longevity of your connected devices. If you're looking around your facility and realize some devices have been around longer than you can remember, then it may be time to take action. Modernizing such devices with services that make it easier to meet newly minted standards, such as OPC UA over Time Sensitive Networking (TSN), can help keep fraudsters at bay.
No. 2 - Developing an identity
Authentication isn't a one-time action. While temporary mechanisms can help, the overall security architecture of an IoT ecosystem largely hinges on identification. Manufacturers who can uniquely identify parts in a secure manner have an advantage over the competition. By enabling trust platforms, the users, devices and systems are issued a secure, unique identity, which can extend through the supply chain.
In addition to monitoring which devices access a network, map out roles and responsibilities to ensure only authorized actions take place. With so much data moving between devices and users, this extra layer of security can help increase the chances that sensitive information only ends up in the hands of the proper parties.
No. 3 - Overcoming distinctions
For many organizations, IoT management isn't easy — and the diversity of devices is a big reason why. The number of connected devices is projected to increase from nearly 27 billion in 2017 to 125 billion in 2030. These third-party sensors and gateways — all of which have varying sets of capabilities and access — highlight the need for standardization throughout the manufacturing industry. Making matters worse, most of the solutions in today's market aren't designed for IoT connectivity.
Overcoming these data security challenges starts with an effective IoT solution that protects both greenfield and brownfield manufacturing environments. Not only will trusted device identities elevate supply chain integrity and visibility, but they also stand to strengthen your control over the connectivity of IoT systems.
No. 4 - Staying ahead of hackers
Though IoT security is moving in the right direction, more needs to be done to combat hackers. Currently, more than 375 million connected devices are potentially vulnerable to hacking. By 2020, that number could skyrocket past 900 million. Calming security concerns starts with an open and honest assessment of your manufacturing environment.
Which areas are most vulnerable to cyberattacks? How can hackers potentially compromise connected endpoints? From the inbound supply chain to well after the manufacturing process is complete, leave no stone unturned. After all, even the smallest gaps in security can lead to a large-scale breach. Leverage the power of trusted identities to ensure your IoT ecosystem remains free from fraudsters. By keeping tabs on each device that accesses your network, you can quickly shut the door on any unauthorized applications or users.
From the proliferation of real-time data to increased efficiency, IoT has transformed the manufacturing industry in recent years. But make no mistake — the best is yet to come. New innovations will continue to connect existing manufacturing networks with digital platforms. Such connectivity, however, requires improved security. Additional network access points coupled with a rapid rise in devices has the potential to put sensitive information at risk. Maximize the value of increased connectivity by taking evolving IoT threats into account. Special consideration of more sophisticated cyberattacks as well as device diversity, identity and longevity can help set the stage for seamless IoT implementation.
Josh Jabs is the vice president in the office of the chief technology officer and is the general manager of IoT solutions at Entrust Datacard.