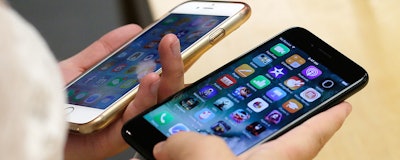 Samsung will unveil its new flagship smartphone, the Galaxy S8, at a special event in New York on March 29. Any remaining hopes of a surprise appearance at last week's Mobile World Congress in Barcelona were crushed when Samsung announced the event titled "Galaxy Unpacked" prior to the MWC's official launch last Sunday.

Following the fiasco surrounding the Galaxy Note 7's faulty batteries, Samsung has a lot riding on the Galaxy S8. In order to gain back consumer trust, the company needs the launch of its next flagship device to go flawless, which is probably the reason behind the delay.

Making up for the Galaxy Note debacle isn't the only reason why the Galaxy S8 better be a hit: as our chart illustrates, Samsung has fallen behind Apple in terms of mobile device sales recently. The company may still lead the smartphone market in terms of unit sales, but in terms of revenue, the iPhone alone beats Samsung's entire mobile communications unit by more than 70 percent.
This chart compares Samsung and Apple in terms of mobile device revenue.