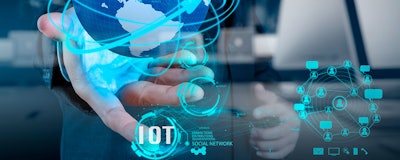 One can make the case that IoT has surpassed the newest smart phone feature as the most frequently discussed topic in the industry.
With the adoption and deployment of smaller, less expensive sensors, the development of advanced analytics and the commodity storage options provided by the cloud, the opportunities for IoT's transformative business applications are being embraced by some companies. Yet others are slow to act on the promise of it.
Those pursuing the adoption of IoT point to its improved efficiency, cost savings and safety — as well as its better decision making and potential for new products and services as reasons to embrace it.
The more cautious weigh concerns about the security risks of IoT, the complexity generated by the volume and velocity of its data, and the necessary infrastructure and training it needs as drawbacks that offset the IoT "hype" and add significantly to its costs.
As manufacturers of sensing and circuit protection technology, Littelfuse is not just watching the IoT conversion from the sidelines, but we're able to see how many global manufacturers are using technology along with other tools to embrace IoT. And from this vantage point we're able to see a few lessons learned from successes and failure attempts. This article will look at both sides of the IoT question in an attempt to determine whether IoT is — or will be — a real world solution for reducing total cost of equipment ownership for today's manufacturers.
The Case for Yes
According to the McKinsey Global Institute analysis, "Disruptive Technologies: Advances That Will Transform Life, Business, and the Global Economy," the potential economic impact of the Internet of Things is considerable. For manufacturing alone, McKinsey predicts an IoT economic impact of $0.9 trillion to $2.3 trillion per year by 2025, with 2.5 to 5 percent savings in operating costs.
How can those savings be achieved? One key way is through mass data collection from assets on the factory floor. By analyzing the state of equipment thermal properties, lubrication levels, oil testing, vibrations and other key indicators of asset health, companies can:
Lower maintenance costs and eliminate unplanned downtime by enabling predictive maintenance
Reduce the need for — and the costs of — preventive maintenance
Reduce stock outs
Save on spare parts and their carrying costs
Reduce yield loss due to equipment failure
Create an early warning system to offset unexpected downtime
Schedule maintenance around production runs, maximizing machine uptime and ensuring customer orders are fulfilled as promised
Knowing what data to collect, understanding what performance indicators are normal or not normal, having the ability to act preemptively to avoid problems … that's the beauty of IoT for manufacturers. Connected devices translate directly into Overall Equipment Effectiveness, which in turn optimizes process efficiency, creating more productivity for less money.
In addition to creating asset efficiency, IoT creates operational efficiencies that also reduce Total Cost of Ownership. For example:
• There's less need for human intervention at the floor level.
With connected devices, operators can respond to data in real time from remote locations. Plus IoT automates a lot of inspection and work order filling. That means floor staff can be reduced and people retrained to fill more challenging roles.
• Supply chain management and inventory control are more efficient.
Embedded sensors can create real-time transparency of both products and supplies as they move through the supply chain, giving management the power to offset or avoid problems that can result in shortfalls.
• Energy consumption patterns can be tracked at the device level.
This allows manufacturers to identify and correct anomalies and off-hours energy consumption, generating savings.
• Decision making is more informed and therefore less subjective.
This is particularly valuable for companies with complex or long-running processes. By equipping managers with verifiable data, they have actionable insights that can not only eliminate waste and inefficiency on the factory floor, but also serve to instill change in their teams.
Is IoT actually reducing Total Cost of Ownership for those manufacturers who have adopted it? It would appear so. The American Society for Quality (ASQ) discovered the following when they surveyed manufacturing companies that have digitized their processes:
82 percent increased efficiency
49 percent experienced fewer product defects
45 percent increased customer satisfaction
While those manufacturers who have taken the IoT plunge report positive results, it appears that they are still in the minority.
According to Gartner, a leading information technology research company, the reality of IoT adoption is lagging well behind its promise. "While there is near universal acceptance of the importance of the IoT, less than a third of organizations (we) surveyed were actively exploiting it," said Chet Geschickter, research director at Gartner. What's holding them back? What is it about IoT that's slowing implementation?
The Case for No
For many companies, it comes down to cost. Cisco Systems reports that the Internet of Everything (IoE) is failing to deliver on its revenue potential.
For example, real-time IoT requires an analytics infrastructure. According to a recent SQLstream article, that means investing in:
Remote, intelligence data collection architecture, with the ability to perform remote filtering and analytics
Real-time analytics, predictive analytics and prescriptive analytics capability
A massively scalable platform capable of managing the data collection and reuse of all real-time data streams
Not only can infrastructure like that be costly, it presents a risk as well as an expense for many companies. How do they transition to IoT while maintaining their business? You can't stop a factory to retool; it must be done in parallel with existing processes. Is it a prototype they install, or a full blown system? And when are they persuaded to make the switch from a proven process to one that may be proven elsewhere, but is new to them? For many, IoT is a daunting undertaking. The immediate risk outweighs the promised reward.
Another thing slowing IoT adoption might be the data itself. Acquiring the data, sending the data and storing the data … none of that is free. And clearly there is the potential to generate a gigantic amount of data, which will generate increasing costs for delivery and storage that will impact Total Cost of Ownership. The vast majority of the data generated from most sensors is not important — but the tendency will be to move it all through a business process. Of course the bigger question is how quickly will people see the value in that data.
The workforce is another issue to consider when adopting IoT. Machine operators have valuable experience and a real-world understanding of how, when and why their equipment performs its best. Retraining them to move from factory floor to computer screen — and then successfully interface with the data analytics team — is both challenging and costly.
The final factor limiting implementation? Cybersecurity. With the prevalence of hackers and the frequency of security breaches, the risk is very real.
The Case for Starting Small
The opportunity is there now to use IoT to create competitive advantage in every industry. But the path to full IoT integration can be costly. My advice? Start small, define the problem to be solved and quantify the measurement of success. Then scale up as you go. Serious pilots with important use cases will help you make the decisions and take the steps now that will position you to customize IoT, grow into the new IoT reality affordably and best of all, reduce Total Cost of Ownership.
Boris Golubovic is Vice President of Marketing and Strategy at Littelfuse Inc.