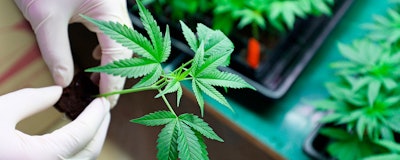 In April, American marijuana smokers lit up to mark "420", which has become an unofficial holiday in recognition of the drug. Smokers do indeed have a lot to celebrate this year amid marijuana's upward trajectory across the United States. It's now legal for recreational purposes in nine states and a further 29 have legalized medical marijuana. With the market gaining serious momentum, it comes as little surprise that well-funded startups are getting in on the act.

Many of them are capitalizing on an industry that offers a broad range of possibilities from agriculture to healthcare innovation. In late 2012, Colorado and Washington were the first states to introduce legalization and by 2015, disclosed market funding was $239 million. That increased rapidly to $593 million by 2017, according to CB Insights' 2018 Marijuana Trailblazers report.

The report analyzed total funding in the U.S. marijuana market and it also took a look at a selection of startups attracting the most disclosed funding. Tilray is a Canada-based medical marijuana producer and it's been funded to the tune of $47 million. Tweewinot Life Sciences is also in the healthcare category and it's attracted $19.3 million of investment. Green bits comes close behind with funding of $19.2 million. Other companies on CB Insights' list are involved in agriculture, data and insights, digital content and operations.