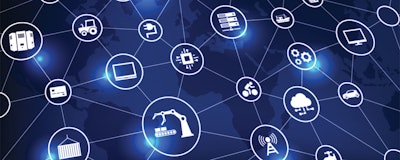 The International Manufacturing Technology Show (IMTS) has partnered with the Smart Manufacturing Experience convention, giving IMTS partners such as the Manufacturing Demonstration Facility at Oak Ridge National Laboratory a presence at the convention.
Held at the Boston Convention Center from April 30 to May 2, the Smart Manufacturing Experience provides a venue for technology providers and users to network and learn.
"In just four years, IMTS has moved from showing the large-scale capabilities of additive manufacturing to now showing how the digital thread has extended from machine monitoring technologies to algorithms that accurately predict properties at the individual voxel level," said Peter R. Eelman, vice president of exhibitions and business development at AMT, producer of IMTS.
"To become a founding partner for Smart Manufacturing Experience, an organization must be a technology leader and willing to contribute its knowledge," said Eelman. "We hope that the small sampling of technologies we bring to the Smart Manufacturing Experience encourages visitors to attend IMTS 2018."
Other IMTS partners scheduled to appear at the Smart Manufacturing Experience include Local Motors, which 3D printed and assembled their Strati vehicle at IMTS 2014 and drove it off the show floor.
At the Smart Manufacturing Experience, IMTS partner Oak Ridge National Laboratory will show their research on qualification and certification of additively manufactured parts using data analytics application tools developed at the lab. Proposed applications for these tools include printing non-weldable nickel-base alloys for gas turbine engines and high temperature aluminum alloys.
The IMTS 2018 event will be held Sept. 10 – 15 at McCormick Place in Chicago.