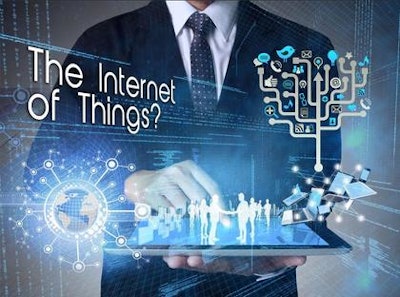 In some circles discussions on the future of the industrial IoT (internet of things) reminds me of a clip from Animal House. I'm thinking of the scene where Kevin Bacon is trying to tell everyone to remain calm, but is literally flattened by the masses of Faber College's homecoming parade debacle. The common theme is that a paranoid response to those mischievous Deltas sparked confusion and generated enough disruption (positive or negative, depending on your perspective) that a celebratory event was brought to a halt.
Playing along with the analogy, it seems many in manufacturing operations and IT are being tasked with quelling security fears instead of being given the opportunity to address these concerns, and leverage the advantages of greater enterprise-wide connectivity. While estimates vary on the size and scope of industrial IoT, one area of nearly unanimous agreement is that security risks continue to be the leading barrier to wider-spread acceptance and integration. However, even more concerning than a Lincoln Continental-turned-Deathmobile is how potential security concerns could limit access to the benefits represented by the IoT.
In a recent episode of The IoT Uplink, Manufacturing.net spoke about whether manufacturers have strong enough firewalls to inspire confidence in expanded IoT applications. Part of this struggle could emanate from a reactive approach to IT and network security as a whole. As the amount of data, number of connections and demands on functionality continue to grow, manufacturers must be proactive in seeking out potential security loopholes or weaknesses. Wringing hands and fretting over the possibility of data breaches should be replaced with critical evaluations focused on networking needs – ensuring that investments in more connected equipment and devices can continue.
Production levels are on the rise, energy prices are on the decline and investments are being made throughout U.S. manufacturing. Part of capitalizing on this positive economic environment will entail taking full advantage of the efficiencies represented by the IoT. Hackers, downtime from networking issues and the potential for compromised supply chain, inventory, distribution and pricing data is rightfully a significant concern.
However, these concerns need to be leveraged against the efficiencies and visibility-related benefits that come with a fully connected enterprise. Just as production flow bottlenecks are eliminated, gaps in supply chains are filled and secondary sourcing options are identified, security issues impacting IoT-related initiatives need to be isolated and resolved in a proactive manner.
Manufacturers have been at the heart of solving problems and improving processes since the first wheel was made round. These new IoT security challenges should be embraced and overcome with the same focus on solving problems, not embracing the related restraints.
Watch Manufacturing.net's video series, The IoT Uplink, to learn more about the IoT movement.