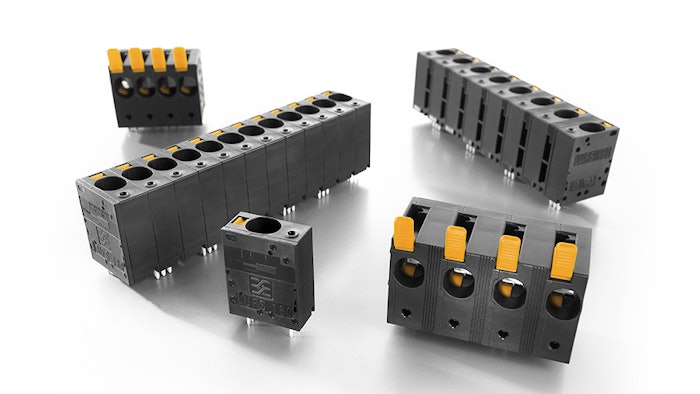 RICHMOND, VA (June 1, 2018) — Weidmuller announces the expansion of their line of OMNIMATE® Power Printed Circuit Board (PCB) terminals with the new OMNIMATE® Power LUF and LUFS 10.00. Both terminal designs feature Weidmuller's PUSH IN connection system for wiring solid, stranded or ferruled wires from 18...6AWG– with ease and low force– to help prevent potential damage to expensive circuit boards. Select versions of these new Weidmuller terminals are UL/CSA rated for use up to 61A and 600V according to UL1059, meeting the requirements for high power applications that include drive controllers and photovoltaic converters.

The new OMNIMATE® Power LUF and LUFS 10.00 PCB terminals offer a range of options from clamping activation to wire insertion orientation. The LUF 90-degree orientation terminal is available in 1- to 12-pole versions with a tool free actuating lever above each clamp for quick and easy clamp opening. The LUFS is available in both 90- and 180-degree orientation in 1-pole to 12-pole versions, and feature a screwdriver push button to open each clamp. When the lever or button is released, the clamp automatically closes on the cable to ensure a reliable connection. Easily accessible diagnostic testing points and a redundant pin design for increased stability on the PCB eliminate the need for an additional fixing flange and increase system integrity.

Several versions of the LUF and LUFS 10.00 are UL/CSA rated for up to 61A and 600V according to UL 1059, making them suitable for use in high power applications such as drive controllers and photovoltaic inverters. This rating applies to terminal versions with 2 or 3 pins in alternating positions per pole. These provide the creepage distances required to maintain a higher amp rating. OMNIMATE® Power LUF and LUFS terminals with 4 or 6 pins in alignment per pole are rated for up to 58A and 300V due to reduced clearage distance between poles. Specific ratings for the commercial (B), general industrial (C) and industrial device groups (D) are provided in Weidmuller supporting materials to assist customers in the product specification and selection process.

The new OMNIMATE® Power LUF and LUFS 10.00 terminals are now available from Weidmuller. Please visit the Device Connection Technology page under Products on the Weidmuller website for more information.

Weidmuller supports customers and partners around the world with products, solutions and services in the industrial environment of power, signal and data. The company develops innovative, sustainable and useful solutions that set standards in Industrial Connectivity today and continually work toward providing solutions for the technology challenges of tomorrow. The Weidmuller Group owns manufacturing plants, sales companies and representatives in more than 80 countries.