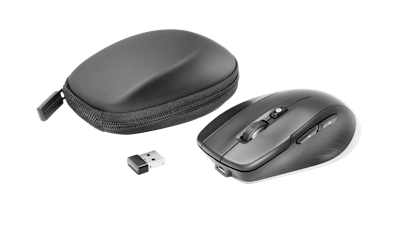 3Dconnexion, supplier of high-performance input devices for CAD professionals, expands its product range with the CadMouse Wireless. The innovative mouse is the first wireless mouse developed for mobile workstations that combines maximum mobility with outstanding features: a high precision optical sensor with a resolution of 7,200 dpi and a battery life of two months, enriched by the flexibility of Triple Connectivity.

Its compact, ergonomic design and CAD specific features, such as the dedicated middle mouse button or the smart mouse wheel, support engineers and designers in their daily, mobile work. The device comes with a lightweight carry case for an easy and safe transport.

"In 2015, we developed and launched CadMouse, the first desktop mouse specifically designed for CAD users. We are proud to announce the new CadMouse Wireless, which incorporates the advanced features of the CadMouse while meeting the specific requirements of a mobile CAD workplace", says Antonio Pascucci, VP of products at 3Dconnexion. "With the CadMouse Wireless we offer our customers a high precision tool without the need to compromise for a mobile setup".

The compact, ergonomic CadMouse Wireless is equipped with an energy saving optical sensor with a resolution of 7,200 dpi and an adaptive polling rate to up to 1000 Hz (via USB connection). Its specially designed PTFE-feet allows smooth and fluid mouse movements in a mobile work environment and the middle mouse button encourages a comfortable and natural positioning of the hand. It is no longer necessary to click the mouse wheel to move an object or confirm a command.

The SmartScroll function automatically adapts to the current software environment and switches between precise, click-to-click zooming for CAD applications or speedy scrolling with inertia effects to easily scroll through webpages and long documents. The QuickZoom function allows for zooming deep into details of a sketch or construction and the Gesture Button allows for additional increases to performance. The user opens an application or environment-specific radial menu which provides gesture access to up to 8 frequently used commands and are visualized on-screen by icons and can be individually customized.

CadMouse Wireless supports the following operating systems: Microsoft® Windows from version 7 and macOS from version 10.10. For more information please visit our website.


About 3Dconnexion
3Dconnexion designs precise, ergonomic hardware and smart, easy-to- use software that combine seamlessly to form high-performance input devices for CAD professionals. From the SpaceMouse product line of 3D mice to the CadMouse product line, 3Dconnexion products provide a superior way for CAD professionals to interact with and experience the digital world. 3Dconnexion's headquarters are in Boston and Munich, with offices worldwide. Further information and the 3Dconnexion web shop can be found out website.