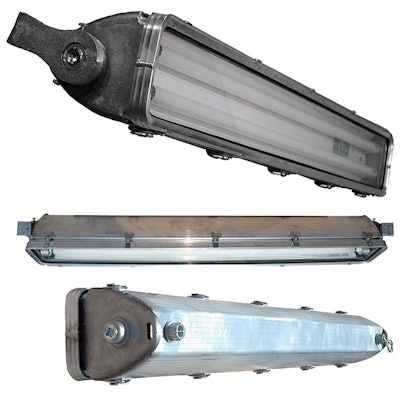 Industrial lighting specialist Larson Electronics finds its products behind the camera once again in HBO's television series "Westworld", set to be released in 2016. Starring Anthony Hopkins and James Marsden, "Westworld" is a television series based on the 1973 film written and directed by American novelist Michael Crichton.
The HAL-48-2L hazardous location light fixture from Larson Electronics is a four foot, two lamp fixture that is UL listed Class 1 Division 2 Groups A, B,C and D and is a good choice for use in applications where space is at a premium. This fixture is T4A temperature rated and is shipped standard with T5HO bulbs. The lamps are protected by an aluminum framed shatter and heat resistant clear acrylic lens secured with ten draw latches and the fixture is constructed of copper free aluminum alloy. The lamp reflector is corrosion resistant heavy gauge aluminum and coated with a high gloss reflective finish. This fixture is multi-voltage capable and can run on any voltage range from 120V to 277V. These fixtures come standard with two surface mount brackets. Each bracket is attached to the bracket mounting peg on each side of the light. The angle of the bracket is set by tightening two cap screws on either side of the bracket that act as set screws. The bracket itself is mounted via a single bolt hole at the top of the bracket. Once the brackets are mounted to a surface, the light fixture can be removed from the brackets by loosening the cap screws that hold the bracket to the mounting peg. Pendant mounts are available for operators who wish to mount these fixtures away from the ceiling surface.
"The rugged design of this two lamp fixture makes it a perfect fit for set designers recreating a science-fiction western that was originally filmed in 1973," said Rob Bresnahan with Larsonelectronics.com. "It's very exhilarating to witness our products being used by set designers and on the big screen."
With numerous appearances in films such as The Green Lantern, The Dark Night Rises, I am Legend, and Pacific Rim, Larson Electronics' line of industrial grade lighting products have proven to be a popular choice among set designers and film production specialists due to their high performance and modern designs which lends themselves well to the production of today's action and sci-fi thrillers. To learn more about Larson Electronics' lighting equipment, visit their website at Larsonelectronics.com or contact them at 1-800-369-6671 or 1-214-616-6180 for international inquiries.