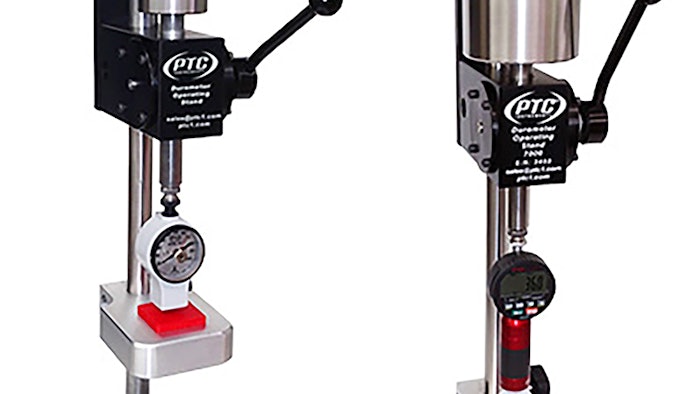 The 7000A and 7000D durometer operating stands were engineered to fit all PTC durometer styles. The Classic Style and the Ergo Style mount right on the stand. For the e2000 and Pencil Style Durometers, a small mounting knob is included.
Mechanical operating stands that deliver a load sufficient to overcome the spring force of the durometer smoothly and without shock in approximately 1 second from contact. Most other mechanical stands apply an increasing load over time which gives inconsistent and inaccurate readings. Since rubber, plastic and elastomeric materials creep over time, it is essential that the load be applied promptly.
These precisely engineered durometer stands have hydraulic dampers controlling the rate of descent smoothly, without jump or stutter. They are activated with simple, smooth lever controls. Designed for serious testing, eliminating operator variability and increased accuracy and repeatability. Whether in the lab or in a production environment you will get accurate and repeatable readings you can trust.
The stands will accept sample materials up to three inches (76mm) thick depending on the height of the durometer used.
Features
Hydraulically Controlled Rate of Descent
Cam Actuated Raise and Lower
Adjustable Specimen Support Table
Increases Accuracy
NIST Certification Included
Indenter to Specimen (for 7000D)
Item Nos. HA-7000A, HA-7000D