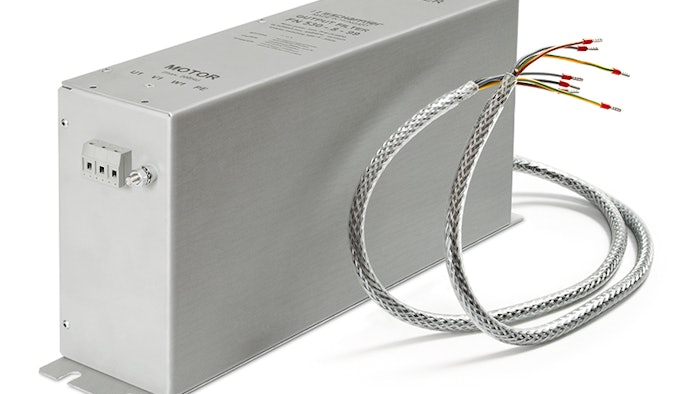 Schaffner Introduces Sine Wave Filter with EMC Output Filter for Motor Drives with a Voltage dc Link

(Edison, NJ) – Schaffner introduces the FN530 Sine Wave Filter with EMC Output Filter which eliminate premature motor damage caused by high dv/dt, overvoltages, cable ringing, motor overheating and eddy current losses in industrial applications. Suitable for motor from 1.5 to 7.5 kW and from 4-16 A, with frequencies up to 200Hz, this proven technology converts the PWM output voltage of motor drives into a smooth sine wave with low residual ripple. In addition to providing efficient motor protection, the FN530 can improve bearing life by eliminating circulating bearing currents, and allow the use of very long unshielded motor cables. Typical applications include chemical and petro-chemical facilities, semi-conductor manufacturing, mission critical applications, installation with multiple motors in parallel, retrofits of motor drives into existing installation with old wiring and motors, and motor drives with extremely long motor cables (up to 1000 m max).

The FN520 eliminates the interference propagation towards components or conductors in the vicinity. Various models are available to accommodate switching frequencies of 6 to 20 kHZ, and vdc link voltage ratings up to 850 VDC max. Meets UL 1283, CSA 22.2 No. 8 1986, IEC/EN 60939. Model FN530 Sine Wave filters with EMC Output Filter are offered enclosed and feature IP20 protection. They are easily installed and provide immediate results.

Schaffner EMC, with US operations headquartered in Edison, NJ, is part of The Schaffner Group – a worldwide leader in the fields of electro-magnetic compatibility (EMC), power quality (PQ) and engineered transformers. From a global innovation and development center in Luterbach, Switzerland, the company develops leading edge products which are manufactured in facilities worldwide. Their PQ product line includes active and passive harmonic filters, along with sine wave filters, which allow the efficient and reliable operation of electrical and electronic equipment and systems. For additional information write to them at Schaffner EMC Inc., 52 Mayfield Avenue, Edison, NJ, 08837, or call (800) 367-5566 ext 276.