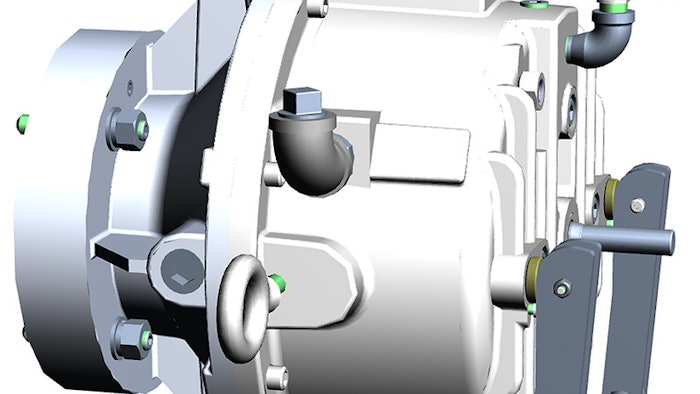 New MagnaShear hazardous duty brakes from Force Control Industries (Fairfield, OH) now meet Class I and Class II Div 2 specifications. With spring set torque ratings from 3- to 900-foot-pounds available, MagnaShear motor brakes can be sized to the correct torque independent of the motor frame size or horsepower. They also feature "quick mount" features for quick and easy mounting to drive motors in NEMA frame sizes 56 to 405.
These motor brakes are completely enclosed from outside contaminants, with seal integrity for harsh and washdown environments. A modular design /assembly allows for ease of servicing and maintenance. MagnaShear motor brakes are ideal for applications where the motor is reversed each cycle such as cranes, winches, and hoists as well as ship and railcar loader/unloader conveyors, tippers, sweep samplers and more.
The totally enclosed MagnaShear brakes are impervious to moisture, dirt and dust that is common in coal prep plants as well as the bulk handling of coal, aggregates, and more.
They are shipped ready to install, with no assembly or adjustments required. They are also available pre-mounted on a hazardous duty motor for severe applications. MagnaShear motor brakes can be furnished to fit a NEMA or IEC frame motor, as a complete motor and brake assembly, or to mount on a machine frame or other special mounting configuration.
For more information, visit www.forcecontrol.com.