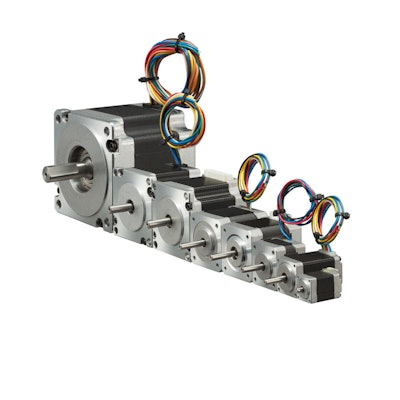 Kollmorgen will exhibit its industry-leading motion solutions at PACK EXPO, September 28 – 30, 2015, at the Las Vegas Convention Center. Visitors to booth C-1741 can expect to see the company's latest PMXTM Series Stepper Motors and AKMHTM Hygienic Servo Motors, and learn how they deliver improved productivity and higher throughput as a result of reduced maintenance and longer component life. Kollmorgen will also show off new enhancements to servo boxing – Vegas-themed servo boxing with a twist!

Throughout the show Kollmorgen will demonstrate its AKMH Hygienic Servo Motor with enhancements including the patent-pending Ventonnector option, which allows the motor to equalize pressure through the connector assembly. The company is also adding support for the Resolver, Endat Sine Encoder, Hiperface and Optical Encoder feedback devices.

The most recent additions to Kollmorgen's line of stepper motors will also be on display. The PMX series is competitively priced, highly accurate and reliable, with additional frame sizes available (08, 11 and 14) as well as traditional frame sizes (17, 23 and 34). Kollmorgen developed the PMX series with flexible manufacturing in mind. Motors can be "dropped in" right out of the box for faster integration into applications.

Kollmorgen will present "Advanced Hygienic Design for Food Processing Equipment" on Tuesday, September 29, at 1:15 pm in the Food Safety Summit Resource Center (Upper South Hall, Booth S-7632). Speaker Bill Sutton will cover design issues when applying drive train components in wash-down environments and review industry feedback concerning machinery needs, including the demand for electrical motors, gearboxes and actuators that are functional, reliable and cleanable for wash-down areas. Sutton is a Kollmorgen Market Development Manager and electrical engineer with more than 25 years of programming, design and sales/marketing experience.

PACK EXPO attendees are invited to register online using Kollmorgen's complimentary pass code: 79K95. Visitors to booth C-1741 can discuss specific application needs and learn how Kollmorgen can help them achieve desired results. Meetings with a Kollmorgen expert can be scheduled by contacting Bill Sutton at Bill.Sutton@Kollmorgen.com.

ABOUT KOLLMORGEN
Kollmorgen is a leading provider of motion systems and components for machine builders around the globe, with over 70 years of motion control design and application expertise. Through world-class knowledge in motion, industry-leading quality and deep expertise in linking and integrating standard and custom products, Kollmorgen delivers breakthrough solutions unmatched in performance, reliability, and ease-of-use, giving machine builders an irrefutable marketplace advantage.

For more information visit www.kollmorgen.com, email support@kollmorgen.com, or call 1-540-633-3545.