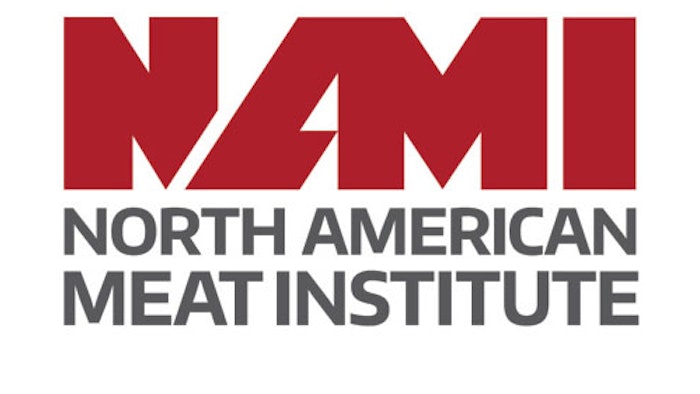 Washington, D.C., March 22, 2018 (NAMI release) — The North American Meat Institute (NAMI) announced general session speakers for its upcoming Meat Industry Summit, April 16-19, 2018, at La Cantera Resort and Spa in San Antonio, Texas. The annual conference will feature education sessions covering an array of topics, including food safety, government regulations, economics, communications and workforce issues.
Jack Uldrich, global futurist, speaker and author, will open the Summit with a presentation titled, "The Big AHA — How to Future Proof Your Business Against Tomorrow's Transformational Trends Today." In this session, Uldrich will share insights about the 10 trends that will transform the way employees work, how companies will provide services to customers and clients and how new business will be secured.
The Summit will also include presentations from Olympic Gold Medalist Ryan Miller, senior partner, Partners in Leadership, who will discuss the value of providing clarity and fostering alignment around key organizational results, and Don Close, senior food and agribusiness research analyst — animal protein, Rabobank, who will share insights and predictions for the U.S. and world economies, focusing on how factors will affect businesses in 2018 and beyond.  Kevin Ladwig, vice president, Johnsonville, will address considerations for improving customer engagement and customer results.
"The Summit provides the most comprehensive overview of current issues affecting the meat industry, delivered by some of the leading experts representing industry, government and law," said Meat Institute President and CEO Barry Carpenter. "The unmatched education program and respected, high-quality speakers will ensure attendees acquire in-depth knowledge and practical skills to implement at their companies following the Summit."
In addition, attendees can participate in the numerous networking opportunities and social events offered, including the John Duyn Golf Tournament; the Supplier Showcase Reception; the Issues, Answers, Actions Breakfast; and a First Time Attendee, NAMI Young Leaders and NAMI Ambassadors Cocktail Reception. The popular Sausage Fest competition, a Political Action Committee Reception and an Awards Ceremony will also take place. Furthermore, Meat Institute committee and Board of Directors meetings will be held.
"Attendees will benefit from the Summit's collegial, interactive format, which will foster productive dialogues and encourage individuals to network with and learn from fellow professionals," said Carpenter.
To view a copy of the draft agenda, click here. For additional information and to register to attend the Summit, click here.
ABOUT NAMI
The North American Meat Institute (NAMI) is the leading voice for the meat and poultry industry. Formed from the 2015 merger of the American Meat Institute (AMI) and North American Meat Association (NAMA), the Institute has a rich, century-long history and provides essential member services including legislative, regulatory, scientific, international and public affairs representation. NAMI's mission is to shape a public policy environment in which the meat and poultry industry can produce wholesome products safely, efficiently and profitably. Together, the Institute's members produce the vast majority of U.S. beef, pork, lamb and poultry and the equipment, ingredients and services needed for the highest quality products.