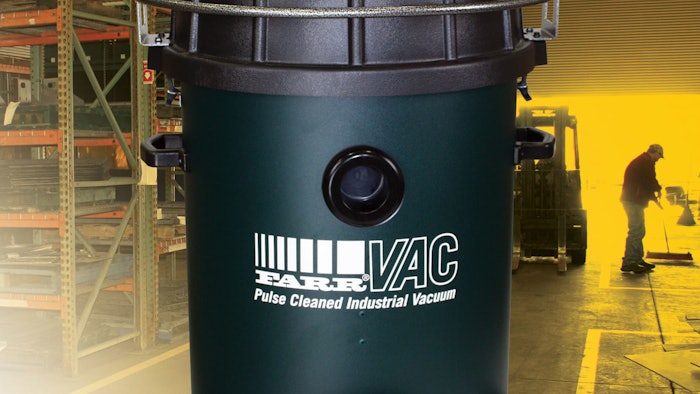 Camfil Farr Air Pollution Control introduces a new pulse-cleaned industrial vacuum that reduces clogs to prevent the problems that result from loss of suction during cleaning. The new FarrVac features:
Operation without compressed air.
The ability to be used for everyday cleanup as a dedicated dust collector for a single process machine or as an accessory to an installed dust collector when replacing or emptying dust drawers or drums.
Pulse-cleaning vacuum control technology that works with ambient air to flush filters of dust and debris automatically.
Durable spun bond polyester filters that capture dust particles to 0.1 micron.
A double seal on the filters to ensure rated efficiency.
A cyclonic housing design that minimizes filter exposure to debris. 
A sturdy wide-stance dolly for easy yet stable maneuverability.
A lightweight aluminum wand and floor sweep.
Galvanized or powder-coated metal parts to withstand harsh environments.  
A 170 CFM motor.
Operation on 120 VAC, 50/60 Hz power.
A 16-gallon tank that is equipped with a sensor to prevent overfilling, protecting filters and motor components from dust contamination.
An optional drum extender that allows the FarrVac head unit to be mounted on a 55-gallon drum with or without a dolly. Replacements filters are also available.