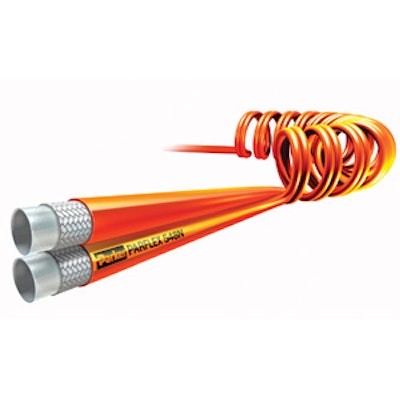 According to Parker Parflex, its Fast-Stor® DURA-flex™ twin-line hose is a non-conductive, retractable coiled hose that is 28 percent lighter than competing rubber hose products, thereby reducing operator fatigue and extending hose life. The company says that the twin-line hose also grants:
Bend restrictors that allow the hose to bend freely while reducing kink potential.
Increased flexibility compared to competitive rubber hoses, promoting easy handling, even in extremely cold temperatures.
The reduction of the chance for entanglement with the operator's feet or in tree limbs due to the tight-coil design.

 

A UV- and ozone-resistant hose jacket, reducing degradation, and eliminating cracking and moisture ingression
Dual construction, which eliminates the need for tie wraps, increasing handling safety.

 

Compliance with SAE J517 for less than 50 micro-amps leakage at 75,000 volts per foot.