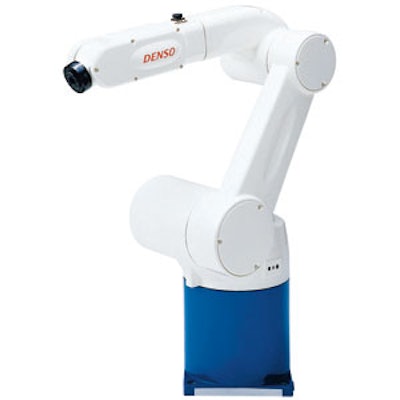 DENSO has increased the maximum payload capacity of its VM Series six-axis articulated robots from 10 kg to 13 kg. The new payload capacity, an increase of 30 percent, allows the VM-Series robots to handle a wider range of applications. According to the company, the robot also features:
Reaches from 1,000 to 1,300 mm and standard cycle times of 0.89 to 0.95 seconds.

Repeatability from ±0.050 to ±0.070 mm.

Long, slim arms allow them to reach easily around tooling or peripheral equipment and into deep, narrow spaces, such as plastic injection molds.

High maximum allowable moment of inertia (0.36 kgm² at J4 and J5 and 0.064 kgm² at J6) is 2.5 times greater than conventional robots, allowing a wider choice of end-effectors.

A small footprint and concealed electrical wiring and air lines, facilitating integration and saving valuable factory floor space.

The ability to be mounted on the floor or overhead with no special tooling required.

Standard, dust- and mist-proof and Class 100 cleanroom models are available.

ANSI and CE compliance allows global deployment.

Typical applications include assembly, dispensing, inspection, machine tending, material handling, material removal, packaging and test handling.

[email protected]

http://densorobotics.com/products_6axis_vm.php