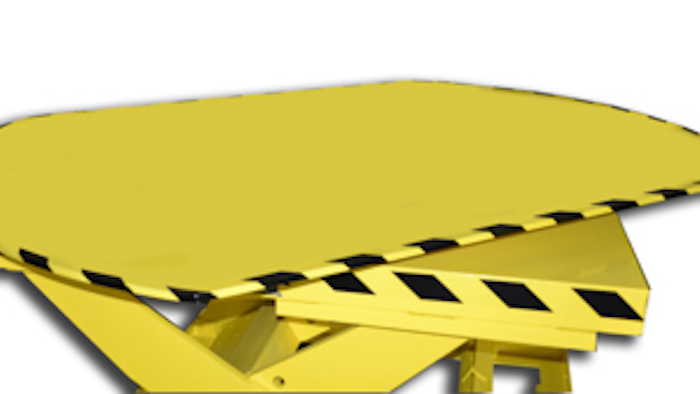 Louisville, KY – Verti-Lift manufactures an array of manual turntables which enhance ergonomics and productivity by eliminating the need to walk around or reach across loads. Ideal for loads which require pallet loading or unloading, these low profile turntables feature heavy duty construction, and a 4,000# capacity. The standard turntable top is ½" thick steel, with optional conveyor top available. Seven platform sizes, both square or round, from 24" x 24" to 60" x 60" suit most applications. Custom shapes and sizes are available. Detents can be added at 90-degrees and 180-degrees to further enhance operator efficiency. Lifetime lubricated kingpin bearings ensure a long service life with no maintenance. Verti-Lift manual turntables can floor mounted, stand-mounted or on Verti-Lift hydraulic or pneumatic scissor lifts, making them ideal for palletizing, de-palletizing, work station assembly and manufacturing of all kinds and in all industries.

Video demonstrations of Verti-Lift manual turntables can be seen on YouTube (search Verti Lift). They are made in the USA and available from Material Handling Distributors nationwide.

For more visit www.verti-lift.com.