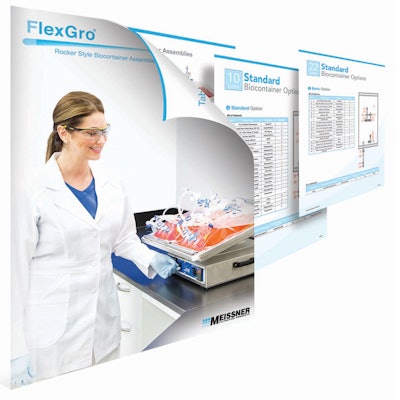 Meissner's FlexGro single-use biocontainer assemblies are ideal for use with rocker-style
bioreactors. The biocontainer assemblies are available in design options up to 50 L and are
delivered presterilized for immediate use.

FlexGro® biocontainers feature Meissner's TepoFlex® polyethylene (PE) multi-layer film.
TepoFlex® film is an exceedingly clean film platform, devoid of slip agents, providing robust and
repeatable performance for your cell cultivation processes. FlexGro® biocontainer assemblies
can be easily customized to specific end-user requirements via various sampling and process
connection options. Multiple standard assembly designs are also available which cater to many
processes.

Meissner manufactures advanced microfiltration products and One-Touch® single-use systems
used in the sterilization of drugs, reagents, and other critical pharmaceutical and biomanufacturing
applications. Meissner provides comprehensive qualification and validation services,
documentation, and application support to optimize filtration and single-use fluid management
systems. Meissner's global customer base is serviced through a worldwide network
of personnel. For more visit www.meissner.com.