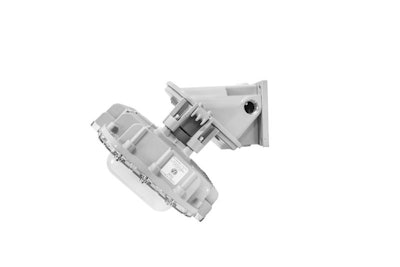 Dialight, the innovative global leader in LED lighting technology, today announced at the launch of its new simplified application mounting brackets, now available on the company's industry-leading LED Area Lights. The new brackets are a great addition to the Area Light family which includes retrofit adapters for Appleton, GE, Killark, and Crouse-Hinds fixtures.

Featuring a hinge-style design, the new brackets simplify the installation of fixtures in zero-degree and 45-degree wall, post and stanchion mounting applications. The hinge-style bracket comes pre-installed on each fixture to eliminate time-consuming bracket assembly in the field. Installers simply mount the bracket to the wall, post or stanchion, and the fixture portion hangs in place on the bracket, leaving the installers' hands free to make electrical connections. The unique design also encloses all wiring connections inside the mounting bracket for maximum protection from the environment.

The mounting brackets are available for 0-degree wall and conveyor pole mounting, as well as for 45-degree wall, pole and stanchion mounting, and offer a wider range of installation options compared to competing products. The universal adapter and corresponding brackets (wall, conveyor and stanchion) are available as mounting options on the 68-108 LPW DuroSite® and SafeSite® LED Area Lights.

Dialight's DuroSite® Area Lights are UL 1598/A and CSA certified and IP 66/67 rated. The SafeSite® Area Lights are C1D2, C2D1, C2D2, Class 3, IP66/67, and CSA certified.
For more information on Dialight's full line of lighting solutions, including IES files, LM79 reports and technical datasheets, visit www.dialight.com.