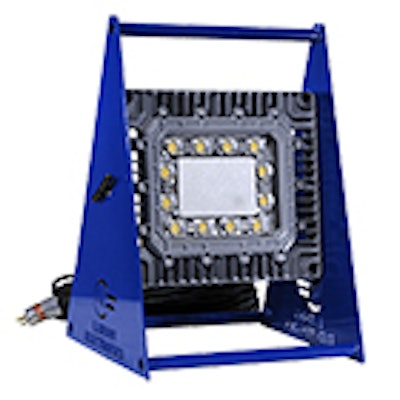 The 31 watt low voltage LED light fixture is designed for use within Class 1 Division 2 environments. This powerful LED light produces 2334 lumens, operates from 12 or 24 volts DC and is available in a variety of configurations to allow tailoring to the specific requirements of various applications.

The HAL-31L-LV-MB-50 is designed to provide a high output and ruggedly durable lighting solution for applications where Class 1 Division 2 compliance is required. This low voltage explosion proof light can be operated with either 12 or 24 volt DC current and includes 50 feet of connecting lead with standard two wire configuration. The light is constructed of precision machined aluminum for excellent strength and durability, clear anodized for corrosion resistance and is IP66 rated for ingress protection against dust and direct exposure to high pressure water spray downs. The adjustable trunnion mount includes three 200 pound grip magnets that provide a versatile mounting solution for temporary illumination.

The HAL-31L-LV-MB-50 is available in a 30° spotlight beam configuration for distance and a 100° configuration for wide area illumination. The LEDs in this unit are Cree X-Lamp XR-E units that have been chosen for their high lumen per watt ratio and extreme long life. These Cree LEDs provide over 90 lumens per watt output and have a 70% lumen retention at 100,000 hours, giving them better efficiency and operational life than comparable LEDs. These hazardous location LED lights are equipped with 50 feet of cord containing a standard two wire connecting configuration. These light operate from 12 to 24 volt DC current and draw 31 watts 2.64 amps on 12 VDC and 33 watts 1.4 amps on 24 VDC. Mounting is provided by an included aluminum yoke that allows vertical adjustment of the light once installed. The mounting yoke includes three 200 pound magnets, providing 600 pounds of magnetic gripping force and allowing this unit to be mounted to any ferrous surface. This hazardous location LED light fixture is ideal for mounting in areas where space is limited and a heavy fixture cannot be installed.

For more visit www.Larsonelectronics.com.