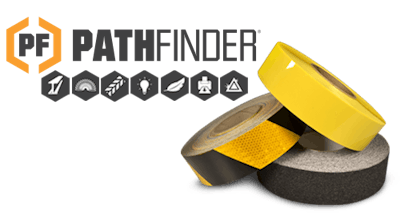 PathFinder, a new line of wayfinding products from Graphic Products, helps organize workflow and create barriers between workers and potential hazards. The wide variety of tapes offer visual communication solutions to designate forklift zones, add traction to slippery steps, light darkened hallways, and convey safety messages when and where workers need it most.

The PathFinder line includes various categories of industrial-strength tape. Heavy Duty tape is rugged, standing up to long term use, heavy forklift traffic, and spills when used on warehouse floors. Tread tapes are designed to eliminate slips and falls in the workplace and are OSHA compliant to keep workers safe when used on catwalks, staircases, and ramps.
Reflect tape directs attention and prevents accidents day and night when used on the back of trucks, rail cars, and around transportation barriers. Glow tape illuminates lowlight conditions when used on emergency exits, fuse boxes, and handrails. Print tape offers customizable safety messages to remind workers of required personal protective equipment, hazards, and warehouse traffic.
For more visit www.GraphicProducts.com.