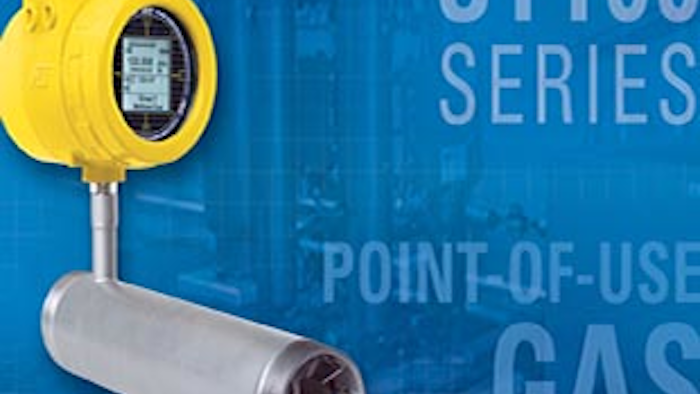 The advanced ST100 Series Thermal Mass Air/Gas Flow Meter helps improve the accuracy of specialty gas point of use  and sub-metering operations to achieve accurate billing in labs for better cost tracking and control. Many academic in
stitutions, research hospitals, and government and private research labs use a variety of specialty gases in their facilities. These gases are often supplied from a centralized location and then distributed to individual labs via a network of piping. Cost accounting for gas consumption is always difficult, but essential because the labs are generally structured and measured as separate cost centers.
FCI's thermal dispersion ST100L Series Air/Gas Flow Meter combined with an integral Vortab Flow Conditioner is an ideal solution for laboratory gas sub-metering applications with variable usage or very low flows. FCI flow meters measure flow rates as low as 0.25 SFPS [0.07 NMPS] and as high as 1000 SFPS [305 NMPS] with up to 1000:1 turndown. They are calibration-matched to specific mixed gas compositions. The ST100 Flow Meter's unique graphical, multivariable, backlit LCD display/readout brings new meaning to the term "process information." It provides the industry's most comprehensive information with a continuous display of all process measurements, alarm status and the ability to interrogate for service diagnostics. Also standard in ST100 is an on-board data logger capable of storing up to 21 million readings of any or all measurements. The logged data is easily retrievable from a removable 2-GB micro-SD memory card or by uploading from the unit's USB port.
The ST100 can be calibrated to measure virtually any process gas, including wet gas, mixed gases and dirty gases.  The basic insertion style air/gas meter features a no moving parts, non-clogging thermal flow sensing element and accuracy of ±0.75 percent of reading, ±0.5 percent of full scale and repeatability of ±0.5 percent fs.  
Designed for rugged industrial processes and plants, ST100 Flow Meters include service up to 850ºF (454ºC) and are available with both integral and remote (up to 1000 feet [300 meters]) electronics versions. The ST100 is agency approved for hazardous environments, including the entire instrument, the transmitter and the rugged NEMA 4X/IP67 rated enclosure.