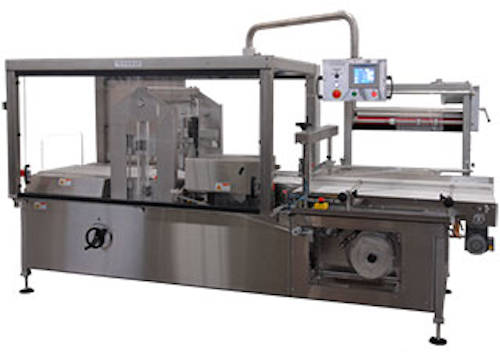 Texwrap introduces the new model T2011SSR continuous motion side seal wrapper. The T2011 is an updated version of the very popular 2203, one of the best selling wrappers in the industry. The T2011 keeps most of the features and functionality of the 2203, but includes new guarding with sliding safety-interlocked doors. Texwrap's exclusive TGM2 side seal, and an internal scrap winder. The cross seal retains the patented hybrid pneumatic/cam design which allows fast throughput speeds with very smooth horizontal carriage movement to insure long term reliable operation. The vertical end seal is now servo controlled which allows for extremely fast motion while also gently ramping into both the closed and open position at the last moment to eliminate any "bounce" during the sealing process. The result is very strong seals with seal times 1/3 that of pneumatic equipment.
The T2011SSR is fast, versatile, easy to use and built for reliable 24/7 operation. It can be combined with many different infeed designs to fit a wide variety of applications. It is also offered in a stainless steel version (shown) for food or other applications where moisture is present.
For more information, please visit www.texwrap.com.