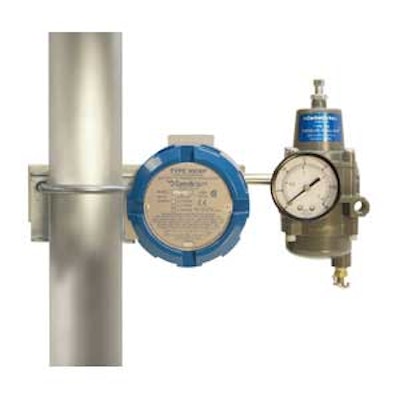 On August 16, 2012, the U.S. Environmental Protection Agency published the following final rule: Oil and Gas Sector New Source Performance Standards and National Emissions Standards for Hazardous Air Pollutant Reviews — EPA-HQ-OAR-2010-0505. Under this rule, continuous bleed natural gas-driven pneumatic controllers between the wellhead and natural gas processing plant or oil pipeline must have a bleed rate not greater than 6 SCFH. The industry has until October 15, 2013 to be in compliance. Thus, ControlAir introduces its 950XP explosion-proof I/P transducer with a natural gas option and a bleed rate of only 3 SCFH or half the allowable rate. Other features include:
Availability with preset output ranges of 3 to 15, 3 to 27 or 6 to 30 PSIG.
An overall accuracy of 0.1 percent of span.
Resistance to vibration and changes in the mounting position.
A tapped exhaust and sealed conduit.
FM, CSA and ATEX approvals for use with natural gas.
A durable design.
A field-selectable option for the ability to change output ranges in the field.