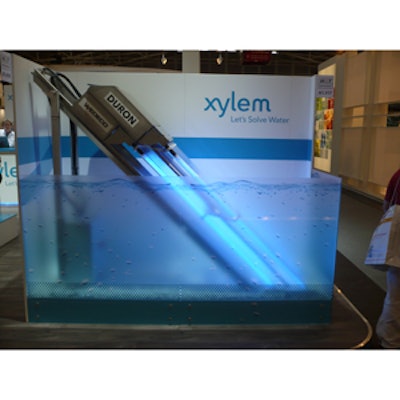 Xylem Inc. offers three new water treatment solutions for delivery to the North American market: Wedeco Duron, Sanitaire BioLoop oxidation ditch and the Leopold I.M.S® 1000 media retainer. The company says that these solutions are characterized by:
WEDECO Duron
Open channel ultraviolet (UV) disinfection system.

Delivers clean, safe treated wastewater that minimizes energy and footprint.

Designed for mid-size to large open channel systems, it eliminates the need for chemical based disinfection while simultaneously reducing electricity costs and the amount of space required.
Sanitaire BioLoop
Oxidation ditch for biological wastewater treatment.

A complete solution which cuts energy costs by up to 50 percent compared to conventional oxidation ditch technology.

The ultra-efficient system consists of a complete process approach which typically includes aeration, submersible mixers, blowers, monitoring and process control systems with sludge age control.

The solution's fine bubble diffused aeration is significantly more energy efficient than mechanical aerators and can be designed to accommodate stringent nutrient removal regulations for nitrogen and phosphorus.
Leopold I.M.S® 1000
A media retainer that allows wastewater treatment plants to consistently deliver higher quality effluent than with support gravel due to increased media depth and available driving head.

Suitable for use in wastewater plants, in GAC contactors, in biologically active filters and in the construction of filters for de-nitrification, the media retainer also costs less to install and operate.