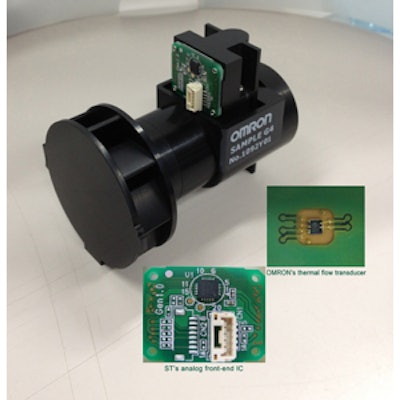 OMRON Corp. and STMicroelectronics have collaborated on a micro-electro-mechanical system (MEMS)-based gas flow sensor with built-in correction for differences in gas composition.  The companies say that their gas-flow sensor also provides:
The combination of OMRON's MEMS thermal flow transducer with ST's analog front-end integrated circuit to deliver precise gas flow-rate measurement with reproducibility.
No need to be configured for a certain type of gas at the time of shipment or installation, as they are intrinsically compensated for both temperature and pressure variations.
A built-in circuit that compensates for the variation of multiple gas composition.
Dust resistance to comply with international gas-meter standards.
The ability to develop smart gas meters that are much smaller, less expensive and more power-efficient than conventional equipment, resulting in cost savings for utility companies and end-users alike.