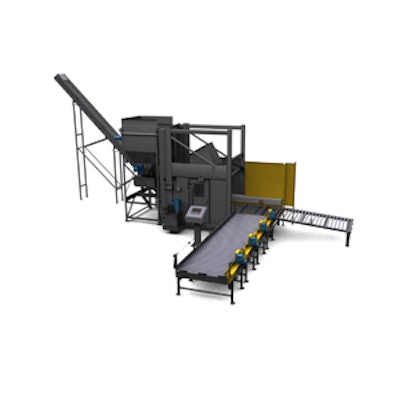 National Bulk Equipment has integrated multiple mechanical conveying methods into this automated bulk material-handling system to move highly fibrous, non-free-flowing material from infeed to discharge, from material conditioning to supply metering and from metering to downstream processing. According to the company, the system additionally delivers:
The movement of gaylords into position for automatic alignment with the gaylord dumper lift carriage via a chain-driven live roller conveyor and pop-up chain transfer conveyor at infeed.
A 3,000-pound capacity and 2,500 pound per hour feed rate.
A continuous-duty weigh belt conveyor to ensure an accurate and reliable material supply from the material conditioning stage.

An inclined boxed-cleat belt conveyor to transport material to downstream processes at a final drive speed of up to 30 feet per minute from material weighing.
The efficient movement of properly conditioned material through the production process, regardless of challenging material characteristics and varying material flow requirements, from material introduction to downstream process supply.
An integrated automation architecture that brings together legacy downstream equipment and the company's systems to a menu-driven HMI.
A UL-listed panel that includes controls, sensors, monitoring and reporting.