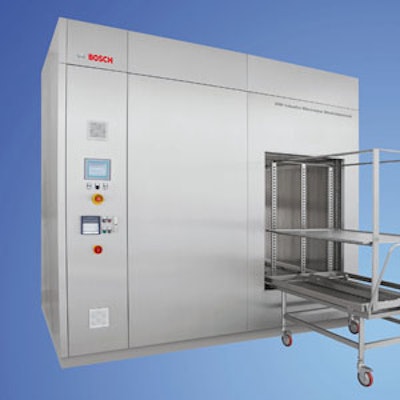 The ADV sterilizer from Bosch Packaging Technology is suited for vacuum sterilization of porous loads, as well as for sterilization of liquids according to the steam/air mixture process. The company says that additional characteristics include:
The steam/air mixture process is used for the sterilization of liquids in open, semi-closed and closed containers.

The vacuum process is especially suited for sterilizing machine parts, filters, rubber stoppers and equipment.

The sterilizer unites equipment sterilization via vacuum process with product sterilization via steam/air mixture process, offering high flexibility: the sterilizer can be used for almost any product and is also suited for the development of new products.

Flexible recipe editors enable quick and individual adjusting of parameters.

The ADV has been developed for research institutes and laboratories, as well as for the pharmaceutical and biotechnical industries.