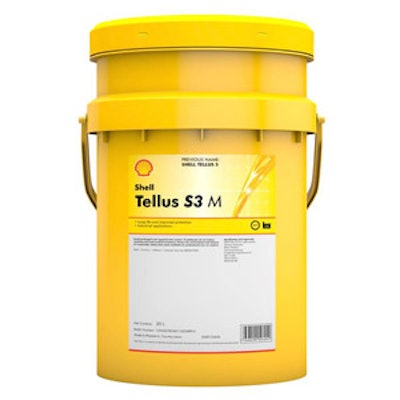 Shell Lubricants' new Shell Tellus S3 M hydraulic fluid  uses a zinc-free anti-wear technology to deliver up to twice the life of Shell's previous zinc-free product, improved pump protection and system efficiency. The company says that this hydraulic fluid is:
Engineered to work under demanding temperature and operating conditions.

Ideal for most manufacturing applications including plastic injection molding and mobile equipment operations.

Able to help prolong machine life and reduce unplanned shutdowns; help reduce maintenance cost and increase machine availability and system efficiency; and offer enhanced efficiency through responsiveness and precision of movement from startup to peak operating temperature.

Characterized by low aquatic toxicity, which reduces its environmental impact ion the event of a spill, and assists operators to better manage the environmental impact of their processes.

Available in ISO viscosity grades 22, 32, 46, 68 and 100, meets the requirements of a wide range of industry standards and is approved by many equipment manufacturers.

 

Appropriate for use in factory-based industrial hydraulic applications, severe-duty, extended-operation applications, as well as mobile and outdoor applications in climates with limited variation in temperature.