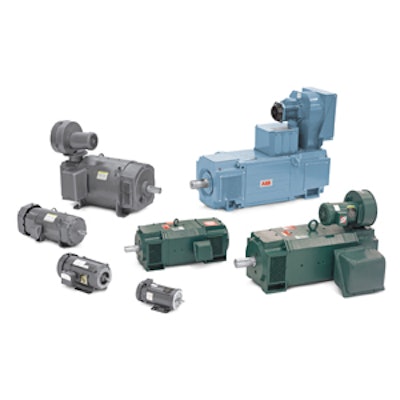 Baldor Electric Co. now offers customers the widest variety of permanent magnet and wound field industrial direct-current (DC) motors in the world. According to the company:
Both IEC and NEMA frame motors are available from stock from 1/50 to 500 HP.

Baldor meets specific application needs with custom-designed motors up to 3,000 HP.

A complete offering of Baldor round-body DC motors has the same shaft height and mounting dimensions as competitors motors, making the product an easy drop-in replacement.

 

Baldor also offers a full range of laminated frame DC motors, including explosion-proof designs.

ABB's DMI DC motor is the most power dense DC motor design in the global market.

 

This laminated frame IEC product has ratings up to 1400 Kw, and with its smaller footprint can be used in a variety of applications where space is an issue.