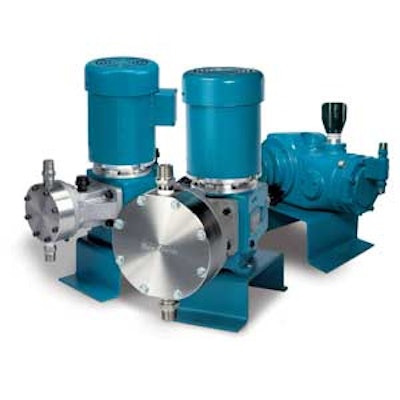 Neptune™ Chemical Pump Co. offers a number of diaphragm metering pumps tailored to various applications. At WEFTEC, the company will showcase:
Series 7000 mechanically actuated diaphragm metering pumps, which are specifically designed with water and wastewater applications. The mechanical design eliminates the use of contour plates on the liquid side of the diaphragm while the simple, straight-through valve and head design allows for improved flow characteristics.
PZ Series electronic diaphragm metering pumps, which are ideal for

various product applications at flow rates from .01 to 20 gph.

The pumps feature a variety of different controls and operate on a manual control that produces speed ranging from 15 to 300 strokes per minute. A variety of liquid-end materials are available.
Series 500 hydraulically actuated metering pumps, which feature EZE-CLEAN™ valve cartridges that can be removed for cleaning without disturbing the piping to the pump and a Variable Oil By-pass™ stroke adjustment that allows for better valve performance than traditional variable-linkage designs. They are manually adjustable from 10 to 100 percent of capacity via micrometer dial or flow may be controlled automatically by electric stroke positioners or motor speed controls.
WEFTEC Booth #5649, Hall G