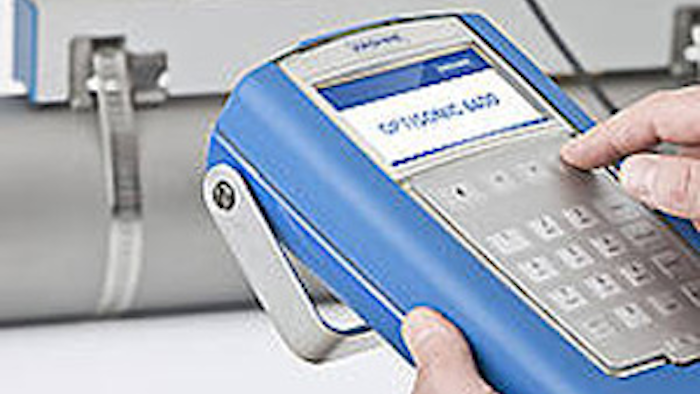 KROHNE has unveiled its OPTISONIC 6400 portable ultrasonic flowmeter to measure flow velocity, current volumetric flow and a variety of diagnostic values for liquids. The company says that the OPTISONIC 6400 also offers:
A compact evaluation unit and 1 or 2 rails (available in tube diameters from 1/2 to 160 inches), each equipped with 2 ultrasonic sensors, one rail attached to the pipeline to be measured using fabric belts or steel straps, while a second rail is used for dual measurements on the same or a second pipe.

The capability to store readings in an integrated memory for data logging, as well as transfer data via a USB stick to external evaluation systems for further review.

A compact design that is easy to install and use — simply attach the sensor rail to the pipe, plug in the cables to the handheld OPTISONIC 6400 electronics, set up a few parameters and begin reading instantaneous flow results.

An integrated battery with 14 hours running time or line power with an adapter supplied.

Readings displayed on a large color graphic LCD.

Ultrasonic time of flight sensor technology, which combines portability, simplicity and fast liquid measurement with precision and reliability.

Packaging of the entire measuring system in a practical suitcase with wheels.

Suitability for various applications in virtually any industry.