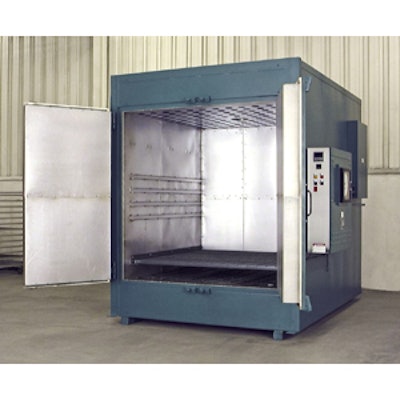 Grieve has designed the No. 997 electrically heated 750ºF cabinet oven for heating Teflon billets at a customer's facility. According to the company, other features include:
100 KW installed in Incoloy-sheathed tubular elements to heat the oven chamber.
A 10,000-CFM, 7-1/2-HP recirculating blower to provide vertical upward airflow to the workload.

6-inch insulated walls.
A digital programming temperature controller.
A manual-reset excess temperature controller with separate contactors.
A recirculating blower airflow safety switch.
A 10-inch (dia.) circular chart recorder.

A subway grating shelf, which is rated for 2,500-pound loading, at the bottom of the oven workspace.
4 pairs of shelf supports rated at 200 pounds per shelf.
Workspace dimensions of 72 (W) by 72 (D) by 72 inches (H).