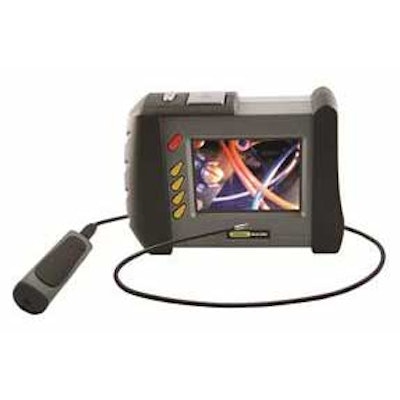 Contractors, technicians and machinists now have even more reason to appreciate the superior capabilities of the High-Performance Wireless Recording Video Borescope System (DCS1800) and High-Performance Recording Video Borescope System (DCS1600) from General Tools & Instruments (General®). According to the company, the DCS1800 and DCS1600 are characterized by:
More than 15 probe options are now available for each system.

They offer quick and precise visual inspection of inaccessible or hazardous areas of complex machinery, equipment and systems without the need for disassembly or teardown.

Each come standard with a slim 5.5-millimeter (0.22-inch) diameter, 1-meter (3.28-foot) long flexible-obedient, front-view camera probe that is water-, oil- and dust-proof to IP67 standards.

The standard probe features a depth of field of 10 to 300 millimeters (0.4 to 12 inches.) and four adjustable, super-strength white LEDs that yield superior image resolution.

It provides a horizontal field angle of 46 degrees, vertical field angle of 34 degrees and diagonal field angle of 56 degrees.

Both systems also come with three interchangeable mirrored viewing tips that provide extra-wide view angles of 70 degrees, 90 degrees and 110 degrees.
Probe options abound for both systems in lengths from 1 meter (3.28 feet) to 22 meters (72 feet) and include soft metal and VGA resolution articulating probes, ultra-slim probes (3.9 millimeters/0.15 inch) and switchable front/side view probes.

Each feature a 3.5-inch (88.9-millimeter) color monitor for real-time viewing and a removable 2GB SD card for recording video and still images.

The DCS1800 has a wireless range of up to 10 meters (33 feet) and can record audio annotations via an integrated microphone.
t.bradica@generaltools.com

www.generaltools.com