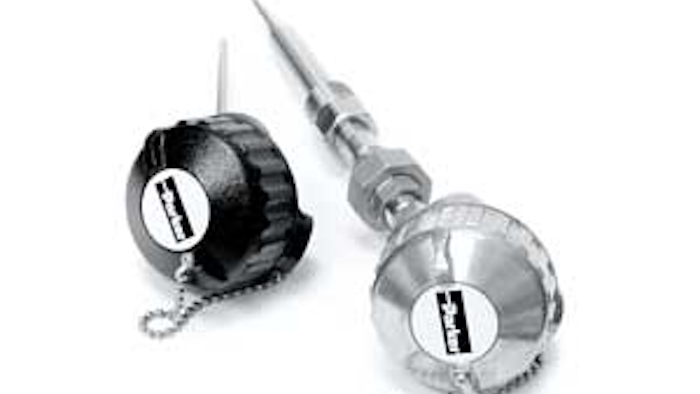 Parker Hannifin Corp.'s line of Thermowell Sensor Assemblies was designed to protect temperature instruments from damage due to pressure and velocity in process systems, as well as viscous, abrasive or corrosive materials. According to the company, the assemblies offer:
Each complete assembly consists of a connection head, spring fitting or nipple union nipple, Resistance Temperature Detector (RTD) or thermocouple, and the thermowell.

 

Parker Texas thermowells are available in threaded, flanged, VanStone, socket weld, weld-in and sanitary styles in other hard-to-find materials beyond stainless steel.

Two temperature sensor options: RTDs, which feature superior accuracy and repeatability and can be used in temperature ranges from -328 to 1,112°F; and thermocouples, which are still required for some high-vibration, shock and higher temperature applications and can be used in temperature ranges from -328 2,300°F (-200 to 1,260°C).

 

They utilize thermocouple types in the most common calibrations of J, K, T and E and consist of a welded or hot junction of two dissimilar metals and an opposing open-end used as a reference, or measured end.

 

Connection heads and fittings — available in cast iron, aluminum or 316 stainless steel — meet NEMA 4X requirements and provide a clean, protected area for a terminal block or transmitter.