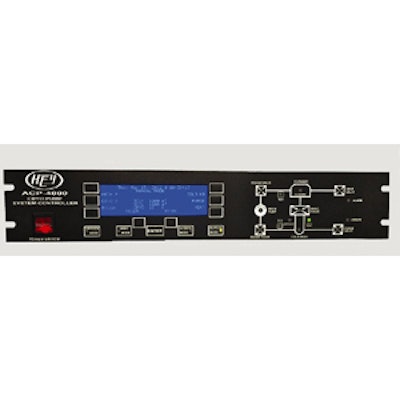 Key High Vacuum Products recently released its ACP-4000 automatic valve controller to provide safe and reliable automation for cryo-pumped vacuum systems. The company says that these controllers additionally grant:
The power to automatically control and monitor all valves and pumps associated with a typical cryo-pumped vacuum system.
The capacity to monitor all key functions in the system, such as cryo-pump temperature, vacuum pressure, valve status, and if a fault is found, the ability to safely make the vacuum system go into a standby mode.
Pre-programmed standard operating modes, which include automatic, protected manual, venting and password-protected, non-protected manual, to ensure reliable and safe cryo-pumping system operation.
Startup, regeneration, pump down and venting as simple as pressing a button.
An affordable price — less than 25 percent of the cost of setting up a computer-controlled cryo-pumped vacuum system.
An easy-to-read, well-lit display, in addition to dual thermocouple gauges and a cryo-pump temperature indicator.
A stand-alone unit designed for use with most cryo-pumped vacuum systems.

 

No need to write any software.
A variety of output voltages.