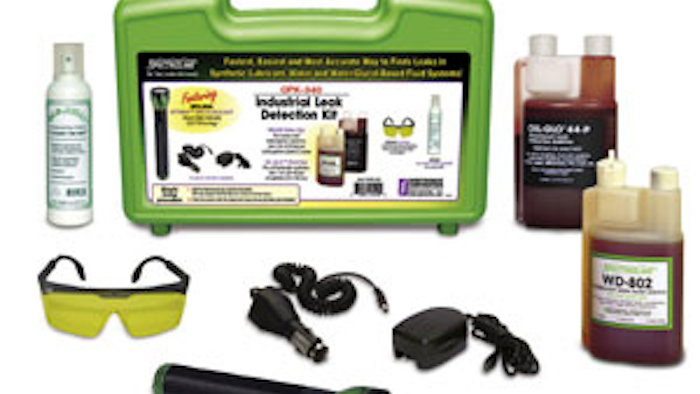 According to Spectronics, its Spectroline® OPK-340 industrial leak detection kit has everything a technician needs to accurately and efficiently pinpoint the exact source of all fluid leaks in hydraulic equipment, compressors, engines, gearboxes, fuel systems and water-based systems. The company says that the kit also boasts:
A cordless, rechargeable, high-intensity

OPTIMAX™ 3000

blue light LED leak detection flashlight that is 15 times brighter than standard LED lights.
A 16-ounce (473-mL) twin-neck bottle of

OIL-GLO™ 44

concentrated fluorescent oil dye, which is compatible with all synthetic- and petroleum-based fluids.
A16-ounce (47 mL) twin-neck bottle of

WD-802

concentrated fluorescent water dye for detecting leaks in all types of water-based systems.
The capability of both dyes to glow brightly, revealing the exact source of even the most elusive leaks.
An 8-ounce (237-mL) spray bottle of GLO-AWAY™ dye cleaner.
An inspection range of up to 20 feet (6.1 m).
A rechargeable NiMH battery and an LED life of 50,000 hours.
Smart AC and DC chargers.
Fluorescence-enhancing glasses.
A rugged carrying case.