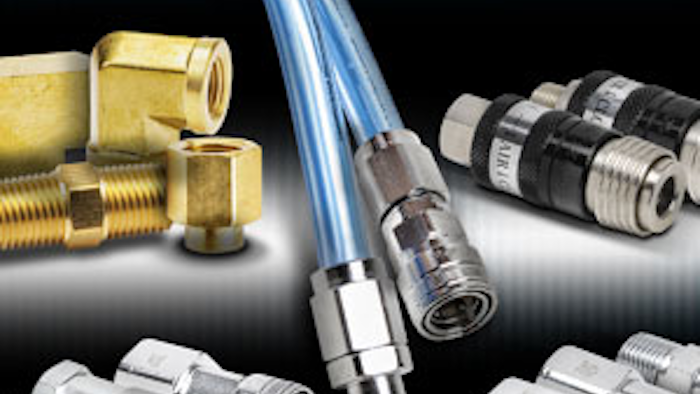 AutomationDirect has added new models of tubing and fittings to its NITRA line of pneumatic components, as well as blow guns and aluminum manifolds. According the company, the new models include:
NITRA 16mm polyurethane tubing: available in 100-foot and 250-foot lengths; has a shore A 98 hardness rating; provides tight outside diameter tolerance; has superior kink resistance; provides excellent hydrolysis, oil and cold resistance; and is available in four colors.

NITRA brass adapter fittings and plugs: available in 10 different styles to meet most pneumatic applications such as air, water, oil, oxygen, nitrogen and argon; machined from yellow brass bar stock or forging so they withstand pressure up to 800 psi; designed with NPT threaded connections — male and female connectors are available in 1/8-inch to ½-inch sizes, in either two-pack or five-pack quantities.

Quick-disconnect fittings: allow easy changing of tools or hose connections; male and female fittings are NPT threaded and withstand pressure up to 250 psi; and swivel fittings made of chrome-plated steel with maximum pressure of 145 psi are also available.

NITRA aluminum manifolds: withstand maximum pressure up to 500 psi and are available in two styles — round manifolds feature one 3/8-inch NPT threaded input and either two or three ¼-inch NPT outputs, and rectangular manifolds have ½-inch NPT inputs on either end and have either three or five ¼-inch NPT outputs.

NITRA blowguns (or nozzles): available in heavy-duty palm type with safety tip, pistol grips (aluminum and plastic models), pocket and plastic grip with flexible nozzles in various lengths; they have a maximum input pressure of 120 psi.
www.automationdirect.com/pneumatic-parts