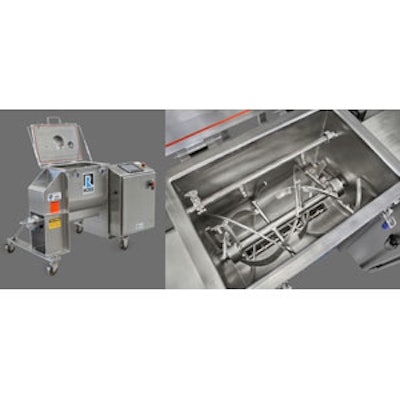 Charles Ross & Son introduces its 42NSD-1S multi-purpose ribbon blender as equipped with interchangeable double ribbon and paddle agitators. According to the company, this vacuum-rated blender additionally boasts:
Fast and thorough blending due to the agitator's inner and outer helical ribbons, which are pitched to move material axially, in opposing directions, as well as radially.
Paddle agitators that deliver gentler mixing, which is more suited for shear-sensitive and friable applications.
A discharge extruder assembly installed along the bottom of the trough to enhance mixing, eliminate dead zones and enable 100 percent complete discharge.
NEMA 4X controls with a variable-frequency drive (VFD) keypad for convenient soft start and speed control of both the main agitator and the screw auger of the discharge extruder.
Accommodations for dry powders, granules, pellets and other solid forms.

A maximum working capacity of 1 cubic foot.
The flexibility of the system to double as paste mixers, vacuum dryers and granulators/coaters (evenly coating a liquid or very fine solid component throughout the surfaces of larger particle ingredients).
An inverter-ready gearmotor.
Ideal suitability for most laboratory and pilot-scale blending requirements.
Optional sight/charge ports, safety gratings, pneumatically operated covers and discharge valves, sanitary construction, spray bar assemblies, heating/cooling jackets, caster wheels for portability, explosion-proof operator stations and HMI/PLC systems.