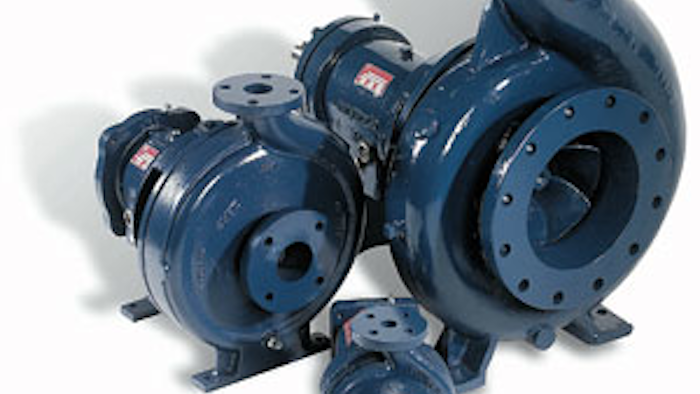 Griswold™ Pump Co.'s 811 Series ANSI centrifugal pumps possess a "speed to market" rate that enables oil and gas producers to maximize the production ability of their operations. According to the company, the pumps, which can be critical components for use in saltwater handling and transfer applications in oil and gas recovery, offer:
Ideal suitability for transferring the collected saltwater out of the well bore and into storage tanks or trucks so that it can be disposed.

Two times the wear area between the case and impeller when compared to closed impeller designs.

An open-impeller design that minimizes concentrated wear by balancing the hydraulic axial thrust load and reducing the stuffing-box pressure — maximizing performance, simplifying maintenance, extending pump life and reducing repair costs.

Casings

that

can be constructed from a wide choice of materials, including ductile iron, 316 stainless steel, CD4MCu and alloy 20.

Smooth, precise, superior finishes that guarantee consistent, reliable performance; Griswold also employs metallurgists to strictly supervise all heat-treating operations so that maximum durability for all alloys is ensured.

Self-tightening impellers that reduce leaks and failures; the ability to externally adjust the clearance so that peak efficiency is ensured even after wear-area loss; and optional enhanced power frames that make them an estimated 33 percent stronger than competitive models.

Availability in a full range of sizes, as well as with options and upgrades that can be tailored to meet virtually any liquid-handling flow rate, up to and including 4,000 gpm (908 m3/hr).

A wide array of mechanical-seal options, all of which give the pumps the ability to operate in temperatures as high as 500ºF (260ºC).