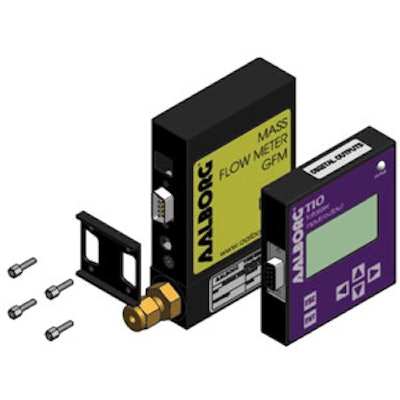 Aalborg® has developed its TIO totalizer to convert analog mass flowmeters and controllers into precise digital units via RS-232 or RS-485 interfaces. According to the company, the totalizer additionally grants:
2 fully independent programmable totalizers that allow up to 9 digit total readings.
Updates that refresh every 100 ms and can be set to activate different events.

 

A multi-drop capacity up to 64 devices.

The display of instantaneous, total and accumulated flow rates.
A user-friendly menu that simplifies making changes.
Password-protected process configuration parameters settings to prevent accidental or unauthorized changes.
Backup of the main totalizer's accumulated total every second with EEPROM memory.
The flexibility to be used as a monitor for the company's GFM and AFM flowmeters or as a controller with its GFCs and AFCs, as well as with any third-party devices that have 0? to 5-VDC/4? to 20-mA inputs and outputs.
No need for a host PC presence for local or programmable set-point controls.
A compact size designed for wall, panel, field or unit-mount applications.
The convenience of Aalborg® configuring the input and output signals to your specific application.
Free configuration and monitoring utility software.