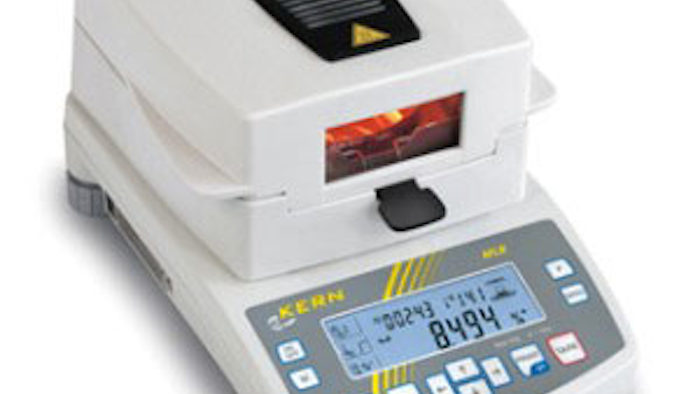 Moisture analysis is quick, easy and accurate using the versatile Kern MLB 50-3N moisture analyzer now available from Tovatech. Moreover, the company says that this moisture analyzer boasts:
Data that includes the moisture content as a percent, current temperature, active drying process, previous sample drying times, and switch-off mode by time or constant weight.

The flexibility to select 4 heating profiles —standard, soft, fast and step — based on the properties of the material being tested.

The determination of moisture content as a percent of weight loss from the starting weight.

A readout of 0.001 g or 0.01 percent moisture.

The display of dry mass from 100 to 0 percent as residual weight from the starting weight.

A temperature range from 50° to 160°C.

A maximum weighing capability of 50 g.

A reproducibility of 0.003 g and linearity of ±0.003 g.

A large liquid crystal display panel to show, at a glance, the moisture analysis process and progress.

A 400-W halogen heater.

The capability to support GLP/ISO record-keeping data consisting of time, date and sample identification number when connected to an optional companion printer.